3 Cleaning Chores I Make Sure I Do Every Single Day
Trying to manage your home? Here are 3 cleaning chores you should try to do every single day…
When it comes to your home, you may feel like it's in one of three states:
Neat and organized, with homemaking routines and systems running smoothly.
Messy and disorderly, with a desperate need for some kind of routine or system.
Somewhere in between neat and messy. You have a general idea of what to do in your home, but don't always get it done. Likewise, some areas of your home are picked up – and others are decidedly not.
Regardless of where you are on the homemaking spectrum and how much time you can actually put into your homemaking each day, I think it's vital to do two to three chores every single day.
Think of them as your Non-Negotiable Daily Chores if you'd like, but without these chores serving as a backbone to your daily homemaking routine, everything else would fall to pieces.
The good news is that they're not difficult.
Plus, once you make them a routine in your everyday life, you'll feel like you've at least accomplished something in your home each day. (You may already have established them in your own daily routine.)
What should you do every day?
Regardless of where you live or who lives with you, each day, I think it's so very important to:
Make your bed.
Wash your dishes.
And if you have a family living in your home, each day it's also crucial to add a third chore:
Wash, dry, fold and put away one load of laundry.
By making your bed and washing your dishes, your house will seem cleaner – and your bedroom and kitchen will be cleaner.
Making your bed
I suggest making your bed as soon as you get out of bed in the morning – it should only take about two minutes, tops.
Wondering how to make it? Once you (and everyone else) are out of bed, follow these 3 steps:
Pull up the flat sheet to the head of your bed. (If you're particular, smooth out any lumps … otherwise, move on to step 2.)
Pull your comforter/quilt/bedspread up to the head of your bed.
Arrange your pillows on top.
Easy peasy. Now you can get on with the rest of your day!
Washing dishes
If you don't own a dishwasher, you'll need to hand wash your dishes. Otherwise, use your dishwasher. However you need to do it, make sure it becomes a daily routine.
Plan time for dishes after every meal in your home so you never have to come home or wake up to a sink filled with dirty dishes.
Putting clean dishes away is entirely up to you and how much time you have – try to set aside 5 minutes to put them away once they're washed and dried. (Your kitchen will look much cleaner!)
Make sure you finish putting all of your dishes away once you start this job, though – that way you won't have to wonder if your dishwasher is half full of clean or dirty dishes. You'll just know! When the dishwasher is empty, it can be refilled with dirty dishes.
Completing a load of laundry
My final daily chore that has become a must-do is completing at least one load of laundry each day.
I remember when I was single and could go two weeks (or longer!) between laundry days. Once I got married, I lasted at least a week, if not more.
But those times vanished as soon as Baby Bernstein was born 8 years ago. Suddenly, our laundry exploded.
Now, for my family of four, dirty laundry piles up in a hurry if I'm not faithful in doing at least one load every day.
So I've found I can make our laundry more manageable if I make sure to wash, dry, and fold at least one load a day.
Sometimes – if I'm finishing up laundry late at night after a long day of forgetting about it – I can't seem to put away all the clean laundry. But at least I know it's done. And the days when I can put laundry away I count as huge successes.
By making sure I do these three cleaning chores every single day, I feel like I've at least accomplished something in my home each day.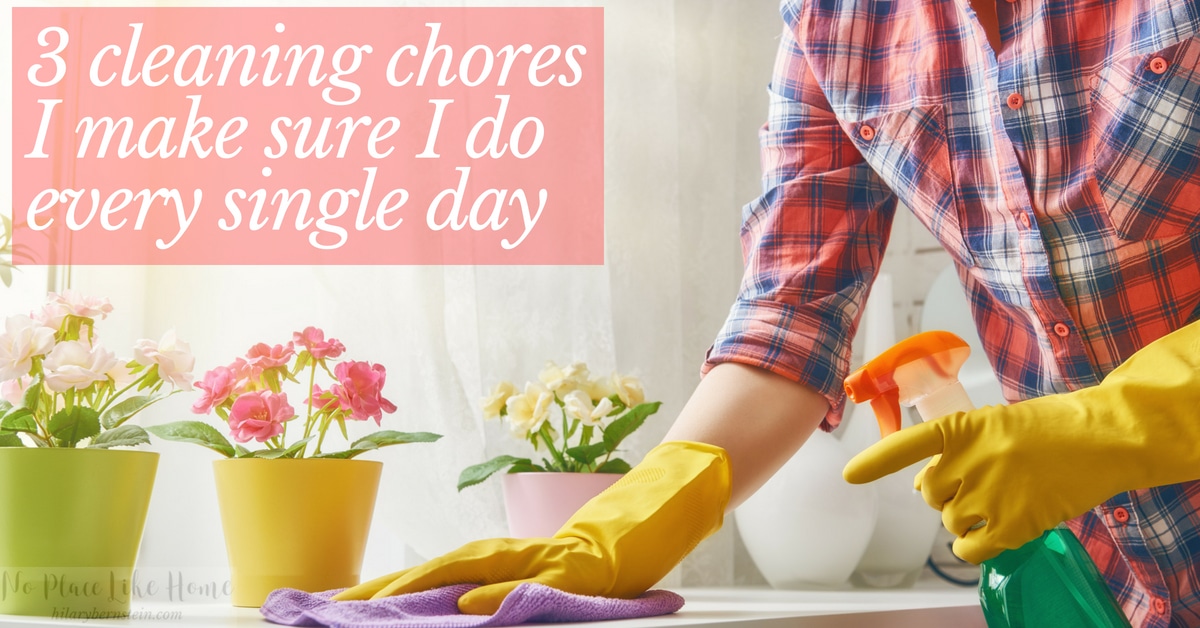 Do you agree with the 3 cleaning chores I make sure I do every day? What cleaning chores do you make sure you do every single day?
Disclosure: Purchasing items through links in this post will result in a commission for Home to a Haven. Thank you for supporting this website!
All images courtesy of Pixabay and Adobe Stock.