5 Reasons I Love Hand-Me-Down Furniture
Need to furnish your home on a budget? Hand-me-down furniture is a fantastic solution! Here are 5 reasons I love it…
When it comes to furnishing your home, a potentially huge expense is furniture.
Since I love frugality, I pick and choose the brand-new pieces of furniture I buy very carefully:
Do we really need it?
Do we really love it?
Is it worth the price?
What I love to use more than brand-new furniture, though, is hand-me-down furniture.
Not only does choosing hand-me-down furniture save a LOT of money, but it's also an easy way to recycle older furniture – and that helps reduce consumption and waste.
While some of my family's furniture is newer, most is a compilation of hand-me-downs or fantastic auction finds. I love our second-hand collection for 5 reasons:
1. Hand-me-down furniture is unique.
All my hand-me-down pieces have a lot of character.
Some of the uniqueness is because the pieces have been made and purchased somewhere over the past 100 years. My great-grandmother's furniture is very different than the bedroom furniture my parents bought for my brother in the '80s.
Regardless of when it was made, furniture sold today may be stylish right now – but not so much seems to have much character. And not much looks truly unique.
My vintage, hand-me-down pieces of furniture, on the other hand, carry their own stories.
2. Hand-me-down furniture is solid.
Old furniture is made of real wood – not cheap composites or plastic. I love how sturdy it is.
While most of it has the original finishes, the furniture my husband and I have painted over is solid and can be transformed without crumbling to pieces. When we do refinish it, it's fun to update the furniture to our preferences.
3. My children can use the furniture and I have no worries.
While I gladly use hand-me-down furniture, my husband and I have purchased new furniture. And without fail, I am much more likely to bark at my kiddos to be careful with our new furniture because I don't want it to get ruined.
But when it comes to hand-me-down furniture, my children can knick or scratch it and I won't throw a conniption fit. It still looks good, but it's worn – and I don't have to worry about it. (Or at least I choose not to worry about it.)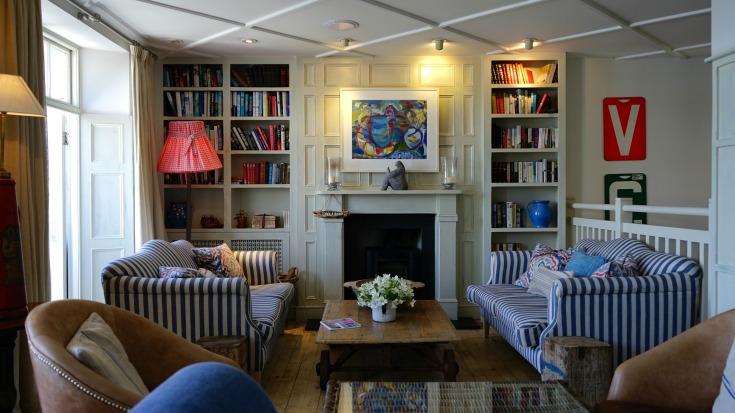 4. Hand-me-down furniture reminds me of special memories.
As I use hand-me-down furniture in my home, I'm surrounded by fond memories:
When I look at my son sleeping in his twin bed, I remember my brother sleeping in the same one as a little boy. And I'm reminded how quickly time goes by.
When my children search for books from the bookcase shelves in their schoolroom, I remember looking at the same bookcase when I was young – only it was at my great-grandmother's house and stored all sorts of antique books and collectibles.
When I use my grandparents' dining room table and chairs, I'm reminded of family Thanksgiving dinners at their house, and how even when everyone tried to squeeze around the table with all of its extensions, a kids table still was needed in the foyer.
When I plop down into my son's cozy recovered armchair and read him book after book, I remember curling up in the same chair as a girl to read page after page of Laura Ingalls Wilder's Little House on the Prairie series. Then I remember sitting in the same chair as a single in my 20s as I journaled about how I hoped, dreamed and prayed I'd become a wife and mother someday.
(Notice that my son has a lot of reused furniture? As a boy he's awfully rough on stuff, so it reiterates my reason #3.)
5. You can find hand-me-down furniture for free … or at bargain prices.
Most of the hand-me-down furniture has either been gifted – or I've bought it at auctions at incredibly reasonable prices. (I'd much rather buy a mahogany end table for $20 than paying more for a brand-new one made out of chipboard.)
I know the price of brand-new furniture, and I much prefer frugally furnishing my home. As I do, I keep a watchful eye for pieces of furniture I like – I don't let random pieces of furniture in that just won't match the style in my home.
With a home filled with a combination of new and used furniture, I know I'm being a good steward – and I feel a comfortable familiarity by using furniture that's been a backdrop throughout my life.
What's your favorite piece of hand-me-down furniture?
Disclosure: Links in this post may be affiliate links. This means that, at no added cost to you, I make a commission on products purchased through these links. Thank you for supporting this website!
All images courtesy of Unsplash, Pexels and Adobe Stock.