7 Ways Walt Disney World Was Better Than I Ever Expected
Planning a trip to Walt Disney World? Here are 7 ways Walt Disney World was better than I ever expected…
When I was 6 years old, I remember looking out my bedroom window one night, spying a twinkling star in the sky, and repeating a familiar rhyme to myself:
Star light, star bright, first star I see tonight;

I wish I may, I wish I might, have this wish I wish tonight.
My wish was a trip to Disney World.
And it came true when I was 9. My family spent one day in the Magic Kingdom and two days in Epcot. In July 1985, the weather was hot and the lines were long, but I loved it. Even though we rode a handful of rides, I always wanted to return.
But I only made it back to Epcot for one day as a 20-year-old.
When I became a mom, I remembered my childhood wish, and knew that at some point my family would need to make a Disney trip.
As much as I wanted to see what Disney had become, I also was nervous:
Would it cost too much money?
Could my children handle all the walking?
Could I figure out Disney's FastPass Plus system for rides?
Would a Disney vacation be as fun as I hoped?
After saving and planning for six months, my family just returned from our first trip to Disney World … two days in the Magic Kingdom.
And we loved it.
7 Ways Disney World Exceeded My Expectations
I especially loved our trip, for the 7 ways Disney World exceeded my expectations:
1. Disney does everything so incredibly well in their theme parks.
From getting masses of humanity into the gates to cheerfully welcoming them all day every day, Disney is a well, well-oiled machine.
While some guests may take the near-perfection for granted, my family appreciated the attention to details:
We loved how cast members called our daughter "Princess."
We loved how they cheerfully joked with our son.
We appreciated the wait times posted by each ride.
We were so thankful for the free cups of ice water.
The complimentary "1st visit" pins made our kiddos smile.
To us, little things meant a lot.
2. The Magic Kingdom is an amusement park suitable for all ages.
There are no kiddie rides or adult thrill rides. My husband and I took our 6-year-old and 8-year-old and rode – and enjoyed – every single ride. Nothing was too scary. Nothing was too babyish.

3. Disney is focused on families.
Children can keep busy with fun activities while waiting in lines.
Restaurants include a wide variety of food choices to satisfy all ages.
So many accommodations are available for guests with special needs, including parents of young children. (Is your child too young to ride something? Use the Rider Switch program. One adult can wait with a child and then switch off – without waiting in long lines.)
4. Cast members are incredibly friendly and helpful.
I loved being greeted on Main Street USA each morning by smiling, waving cast members. If and when we had questions, cast members would go out of their way to help us.
When we were at the park's various Nikon Picture Spots, the professional Disney photographers would take photos with their own camera … and then take photos with our family's camera.

5. Wait times were minimal.
Even though we booked our trip for the absolute busiest time of the year, with a little planning ahead of time, we never had to wait more than 30 minutes for a ride.
That was truly amazing, especially since we visited the week before the 4th of July. (I've shared our strategy in this post.)
6. I never expected to be so absolutely happy while we were at Disney World.
From the time the park opened to the time the park closed (and we were there the whole time), I had a ton of fun with my husband and children.
(The only time I got a little anxious was leaving the Celebrate the Magic fireworks show with throngs of visitors. But my anxiety was simply because of being so utterly crowded with our children in the dark.)
I was surprised that I blocked out the rest of the world while I was there – what happened anywhere else during those two days, I have no idea. For the first time since the days my children were born, I was able to shut out everything else that was going on and simply focus on enjoying the moment.
And time passed so slowly. Normally my days fly by with routine and I'm left wondering exactly what I did at the end of the day. Not so at the Magic Kingdom.
I didn't mind the crowds. I didn't mind the extreme heat. We kept walking and riding and laughing and screaming with fun on all of the fast rides. (Big Thunder Mountain Railroad is, by far, my most favorite ride of all.time.)
I never expected to well up with tears of happiness during the Festival of Fantasy Parade. But watching my children's delight at seeing all of the characters definitely brought tears to my eyes.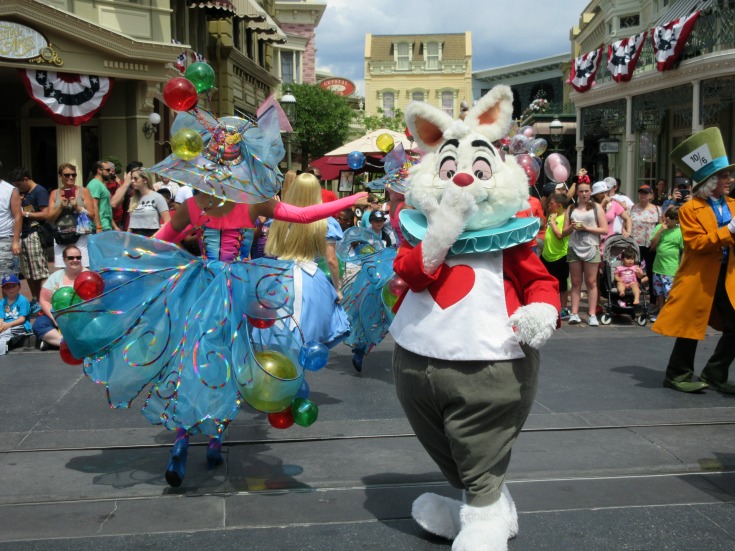 And I never expected that I would want to return to Disney World. While it may take a few years to save up for our next trip, we definitely want to return to experience all of the Disney magic again.
For more tips to help you plan your own Disney vacation, read:
If you've visited Disney World before, how has it exceeded your expectations?
All images courtesy of Hilary Bernstein and Unsplash.