Becoming Content With Your Home
It's easy to be critical or focus on what you don't have. But by changing your attitude, becoming content with your home is possible.
Not everyone lives in the home of their dreams.
In fact, I'm willing to bet that most people don't. (That's why they're called dream houses and not reality houses.)
I have all sorts of pictures in my head of my dream house. It's filled with character and has plenty of room to entertain guests.
But now that I'm middle-aged, I'm coming to the realization that I may never get to live in the house of my dreams. 
And, as uncomfortable as that makes me feel (completely in a me! my! mine! I want it my way! sort of selfish desire), I'm wrapping my head around the fact that this possible reality needs to be OK. 
As much as I've bought into the fallacy that I should choose a home that will make me "happy," its simply untrue.
I have a roof over my head and heat to keep me warm on cold nights. I have more stuff in my home than I have room for. I need to be thankful for this.
Dealing with discontentment
If you're feeling stuck with a home that's less than your ideal, it's hard to feel content.
Maybe it doesn't seem like there are enough bathrooms. Or bedrooms. Or your kitchen could stand to be larger … or updated.
The list could go on and on. Maybe it feels like your house is too small … or too large. Maybe it's so old and needs more updating than you can afford. Maybe you feel trapped in a soul-sucking space instead of flourishing in a haven.
Whatever issues you may have, it can become easy to focus on them and dwell on what you wish you could change.
Learning the secret of being content
Contentment doesn't come naturally. But we can train ourselves to become more content.
As the Apostle Paul wrote in Philippians 4:11-12,
"I have learned to be content whatever the circumstances. I know what it is to be in need, and I know what it is to have plenty. I have learned the secret of being content in any and every situation, whether well fed or hungry, whether living in plenty or in want."
Did you catch that? He learned the secret of being content. Whatever the circumstances. In any and every situation.
That means there's a secret to it. And it can be learned.
So what's the secret? It's found in Philippians 4:13: "I can do all this through Him who gives me strength."
Our contentment comes through Christ.
Without Him and the strength He alone gives, we might as well resign ourselves to wallow in discontent.
But if you're following Christ, stretch yourself to be content and at peace with your circumstances. Surrender your desires to Him and watch what He can do in your heart.
A contentment challenge
I have a challenge for you … and me. If we're serious about becoming content in any and every situation, let's think about what's right with our houses when we're tempted to think about what's wrong.
You may not feel like you have a haven.But when you're ready to dwell on what you don't like, think about what you do like.
For right now, you don't have to do anything else. But replace your negative thinking with positive thoughts – even if it's being thankful for a roof over your head or running water or the luxury of a washer and dryer.
Sometimes, it takes me a while to look for the good in my annoying places.
I think about how it's difficult to jockey four people around one bathroom – until I remember how my grandparents raised seven children sharing 1½ bathrooms.
When I look at the vintage purple tile and bathroom sink in my own bathroom and wish we could spring for a remodel right now, I try to be thankful for indoor plumbing – because it's a luxury many people in this world still don't have.
A few years ago, I was very disappointed in our dated kitchen. I wasn't crazy about the storage space, the 50-year-old countertops, and the basic layout. Then I saw a picture of a woman cooking in a Third World kitchen. When I saw the dirt floors, crude cooking space, and couple pots and pans stacked and stored in the middle of everything, I stopped complaining. Right away.
Now, whenever I'm tempted to complain, I visualize that kitchen – and I'm thankful for my own.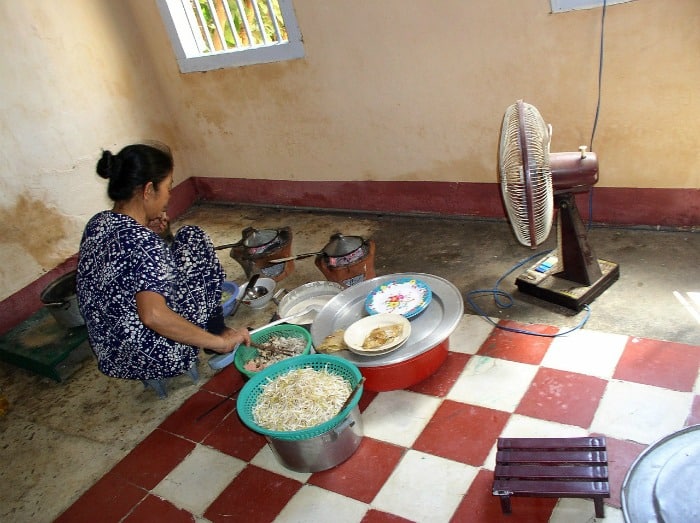 Contentment without pride
You don't need to think of your home as better than other homes to puff yourself up with pride. But it is possible to become content with your home by remembering to be thankful for what you do have.
Thank the Lord for the way He has blessed you and where He has placed you in life.
Ask Him for a heart of gratitude and contentment, trust Him for it … and start living each day searching for things to appreciate.
How do you work at becoming content with your home?

Disclosure: Links in this post may be affiliate links. This means that, at no added cost to you, I may make a commission on products purchased through these links. Thank you for supporting this website!
All images courtesy of Unsplash.