Books
Encourage the girls in your life.
200 Nighttime Prayers for Teen Girls
What better way to end the day than in quiet conversation with the One who loves you most! These 200 comforting prayers will soothe your tired soul and usher in peaceful relaxation at bedtime. Hushing worrisome thoughts, stopping negativity in its tracks, and encouraging complete focus on the heavenly Creator who promises peaceful sleep, each prayer is the perfect way for you to draw closer to the Rest-Giver and hand all of the worries and cares of your day over to Him. Want the promise of sweet, peaceful sleep? Quiet your heart and spend time in His heavenly presence tonight.
"This is a wonderful book for anyone, really—all the positive affirmations are beautiful and will help the self esteem and confidence of ANY one who reads it!" — Keshia
No matter what you're going through, you will be encouraged to look up and share what's on your heart with the One who loves you most. Two hundred meaningful, powerful prayers will touch on topics important to your heart—including life's hopes, hurts, and happiness—and will inspire and move you to grow ever closer to your loving heavenly Father who hears your every prayer. Each full-length prayer will include a relevant scripture selection and short devotional take-away thought.
200 Nighttime Prayers for Girls
Daily Devotions for Courageous Girls
Daily Devotions for Courageous Girls, written for girls ages 8 to 12, delves into the timeless theme of courage in all areas of life—relationships, giving, persisting, forgiving, loving, praying, and more! With each turn of the page, girls will come to know and understand that God is working daily to grow them into the beautifully courageous girls He created them to be.
Coming in 2022
You Belong for Girls and Teen Girls
Quiet Times with God for Girls and Teen Girls
eBooks
Get some direction with a powerful, biblical influence!

Becoming a Modern-Day Proverbs 31 Woman eBook
Some Christian women despise the description found in Proverbs 31:10-31. If you're not familiar with her, the Proverbs 31 woman works hard … and it seems like she does everything exceptionally well. In an age of comparison, it can be easy to feel inadequate when you read about a biblical superwoman.
Instead of focusing on how you can never measure up to her example, you can look at the example in Proverbs 31 as an excellent biblical description of what women can do. Women can work hard and succeed. Women can be excellent wives and mothers. Women can act as the very strong and capable backbones of their families.
By the end of Becoming a Modern-Day Proverbs 31 Woman, you'll glean wisdom, inspiration and grace from the Proverbs 31 woman without feeling the weight of guilt or comparison.
" I love the way you have made Proverbs 31 concise, to the point, practical, and easy to understand. You have put into 67 pages with great insight what some have filled up in a lot more. You are so good at getting a point or idea across in such a manner that it is easy to follow. I just wanted to say how much I appreciate how you use your God given ability to share the Word of God and his principles with others."— Lou Ann
"Loved the book! It fit right in with where I am in my life. A lot of helpful, thought-provoking guidance."— L. Baker
Know your home needs cleaned … but you don't know where to start or what to do?
From Mess to Success eBook
Wish you felt motivated to care for your home?

Motivated eBook
Holiday Resources
Celebrate Advent while learning about international holiday traditions!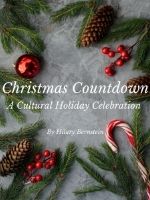 Christmas Countdown eBook
Get your home ready for company before the holidays!