5 Ways to Care for Your Home When You're Physically Unable
It feels impossible to care for your home when you're physically unable. But if you're sick or not feeling well or have limitations, here are some ways to accomplish something around the house.
Sometimes, as much as you want to have a clean house, you simply can't.
Maybe you're suffering a serious illness.
Perhaps you're physically limited.
Or you are absolutely exhausted and you've absolutely zapped your energy.
Whatever ails you, cleaning your home has become more than a chore. It has little to do with motivation.
It simply feels like an impossibility.
Yet as much as you can't clean, you still watch your home get messier and dirtier. And it's so frustrating.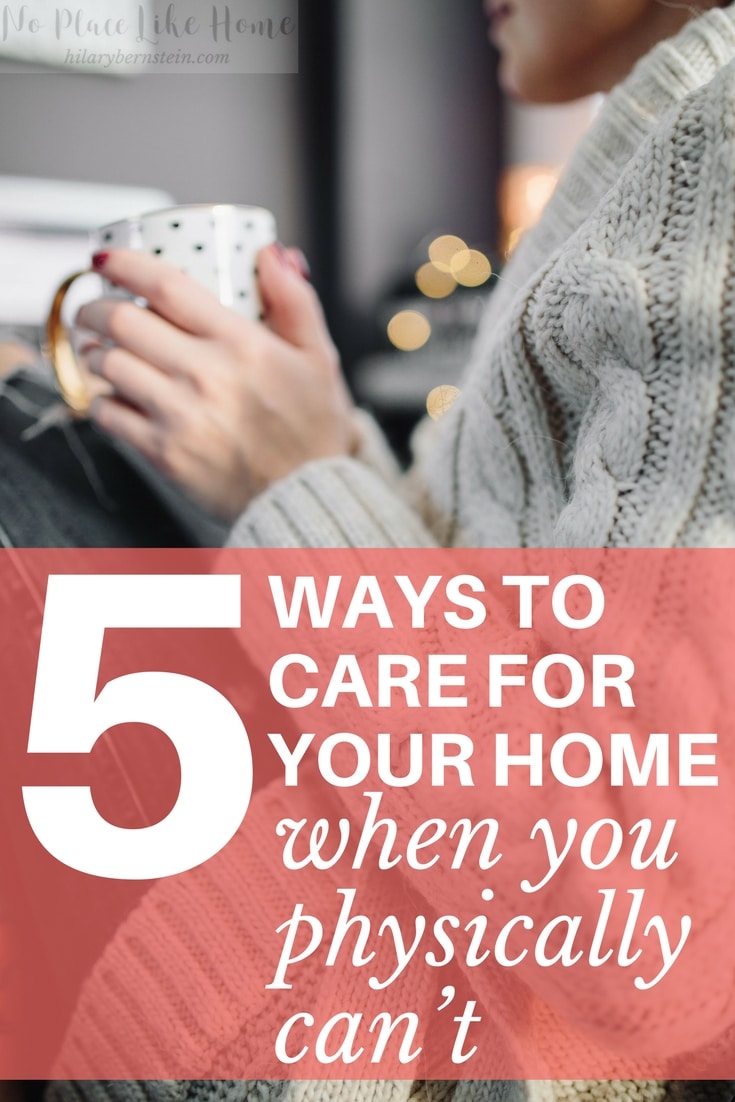 Watching a real life spiral
As a girl, I watched my mom, a driven housekeeper, care for our family home. Spring cleaning – often done during summer vacation – was an annual necessity. Absolutely everything was scrubbed – walls and floors, baseboards and trim, nooks and crannies.
My grandma always told my mom she didn't really need to clean so much – walls didn't have to be washed once a year. But my mom cleaned and scrubbed every year. Until she couldn't anymore.
Over the past fifteen years, her health has gotten progressively worse. And today, simply walking across the room brings a lot of pain.
Cleaning now takes a huge amount of effort and time. And it brings pain.
5 Secrets to Caring for Your Home When You're Physically Unable
Recently I asked my mom how she manages to take care of her home when she's physically limited because of pain. She shared five secrets with me:
1. Let go of perfect.
As hard as it may seem to resign to the though, accept that your home won't be as clean as it once was.
2. Purge your unnecessary belongings.
When you have a little energy, purge your belongings. Decide what you truly need and keep it. Get rid of the rest. Not needing to clean unnecessary things will be very helpful.
3. Make sure everything you own has its place.
Once you've decluttered, find a place for everything. And once you've used it, return it to the same place. Remember – a place for everything and everything in its place.
4. Do a little bit of housework every day.
You may not feel like you can do much, but as long as you do something, it makes a difference. Decide what Non-Negotiable Daily Chores you'd like to accomplish. Then work on them every day.
If you know you'd like to work on bigger projects around your home, break them up into smaller chores. Just focus on one or two a day until you eventually accomplish what you've set out to do.
5. Give yourself grace.
As frustrating and painful as it may be to recognize your limitations, give yourself plenty of grace. Life is more than a clean house. Take care of yourself.
Unless you hire help for your cleaning (and that's always a possibility!), realize that your home may not be as clean as it once was. And that needs to be OK.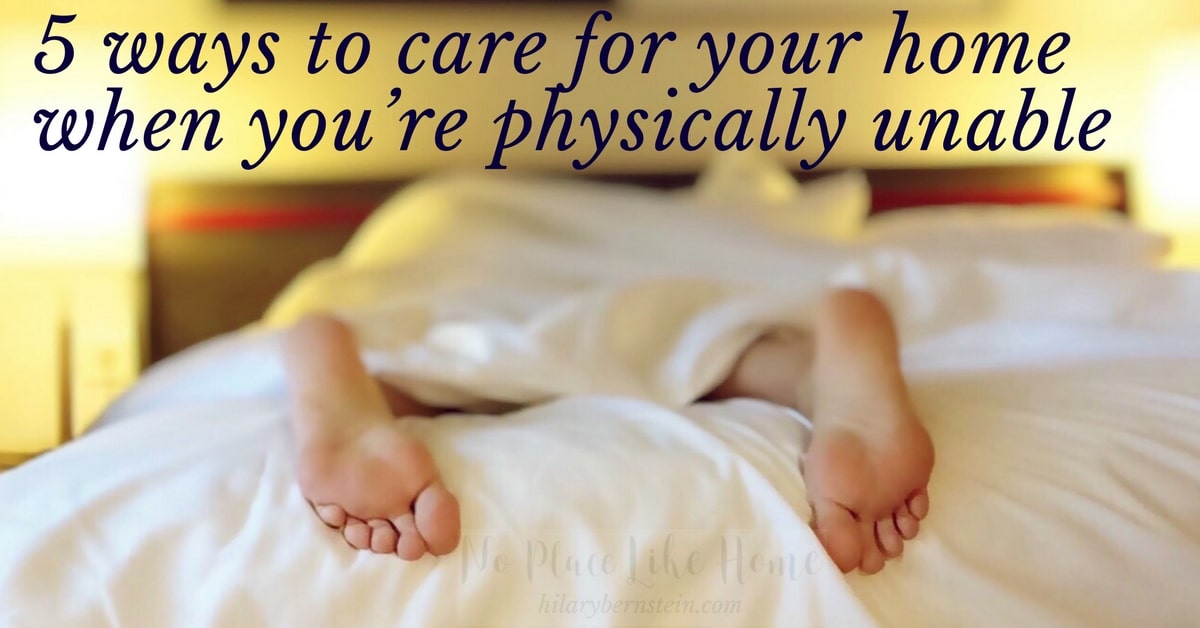 If you're physically unable, or if you're sick, how do you manage to care for your home?
Disclosure: Links in this post may be affiliate links. This means that, at no added cost to you, I may make a commission on products purchased through these links. Thank you for supporting this website!
All images courtesy of Pixabay.