How to Create a One-of-a-Kind Disney Vacation
Planning a vacation to Walt Disney World? Forget about anything that seems cookie-cutter … it's easy to create your own one-of-a-kind Disney vacation!
Over the past five years, I've paid a lot of attention when my friends go on Disney vacations. I've looked at their photos on Facebook, asked questions – and always thought Disney seemed way too complicated and expensive to actually go.
My hesitations?
The energy. I hated the idea of my husband and I taking our two young children to park after park for four or five days. Sure, we'd have fun at the beginning of our trip – but wouldn't we be absolutely exhausted by day three?
The planning. From figuring out Fast Passes to meal plans to staying on site – and navigating the transportation – it all seemed really complex.
The cost. When I started researching what seemed to be a cookie cutter Disney vacation like all my friends were taking, I nearly fainted at the cost. Tickets were one big expense, but add in on-site hotels and meal plans and airfare, and my husband and I would need to skip vacations and save our money for years upon years.
Then one day, I had an idea.
What if our family's Disney vacation didn't have to look like all of our friends' vacations?
What if we could create a one-of-a-kind Disney vacation that fit our family's wants and needs?
With just a little investigation, I discovered it was actually very easy to create our own unique Disney vacation – and that, truly, Disney vacations are meant to be tailor-made for each family.
My family's one-of-a-kind Disney vacation
While I consider my family's vacation to be one-of-a-kind, it's very possible that thousands of other families are doing the same sort of planning. I just don't know of any of them.
As I began to make our plans, I asked one important question:
What do we want to do?
Given the fact that we needed to vacation in summer (my husband's a teacher), what would we absolutely want to see during a hot and humid day in Florida?
Since our children would be 6 and 8 when we planned to go, we knew one thing at Walt Disney World would suit us best – rides. Lots and lots of rides, along with a few parades. We weren't interested in shows or visiting other countries or seeing animals.
The Magic Kingdom was an obvious choice.
And since we wanted to enjoy our time of Disney – and not look at it as a test of our endurance – we wanted to keep it to a two-day visit.
So we wouldn't need to feel rushed through the Magic Kingdom just to see another park that we didn't really want to see, we decided on two days in the Magic Kingdom. That was it.
Fitting in our other preferences
Now that we had our main goal in mind – keeping our trip relaxed at the Magic Kingdom – we had to decide how to fit everything into our budget.
I remembered my childhood trip to Disney and copied my parents' budget-friendly model.
So my husband, kids and I drove to Florida, stayed in a hotel off-property, and ate reasonably priced meals. All in, our eight days in Kissimmee cost $1800 (and that wasn't as cheap as our trip could have been). Most importantly, we loved every single minute of our relaxing but fun trip.
By making those choices, a lot of my planning apprehension disappeared. I only needed to figure out Fast Passes, which was surprisingly easy and fun.
Once the main decisions were made, details fell into place thanks to Walt Disney World's website, Disney travel books I borrowed from the library, and helpful posts I pinned to Pinterest.
A unique Disney experience
While we were at Disney, everything my husband and I hoped for came true:
We were able to ride every single ride at the Magic Kingdom without rushing.
We enjoyed the park at a leisurely pace.
And in the process we did everything our family wanted to do.
The four of us were able to spend two full days having an incredible amount of fun together.
Some families may love to plan special meals and meet and greets to meet all the characters.
Other families may want to wine and dine their way around Epcot. Or sit and watch performance after performance at every park. Or mix in water parks and video arcades with theme parks.
Some families may not need to worry about a budget and choose to stay on site for days, with chances to relax by the pool in the middle of the day.
The beauty of Disney is that all of those options are right – depending on your family's ideal vacation. There are countless options that can please everyone.
The big question
The big question that needs answered is:
What does your family want to do?
What would bring you the most enjoyment? Once you discover that answer, you can start planning your own one-of-a-kind Disney vacation.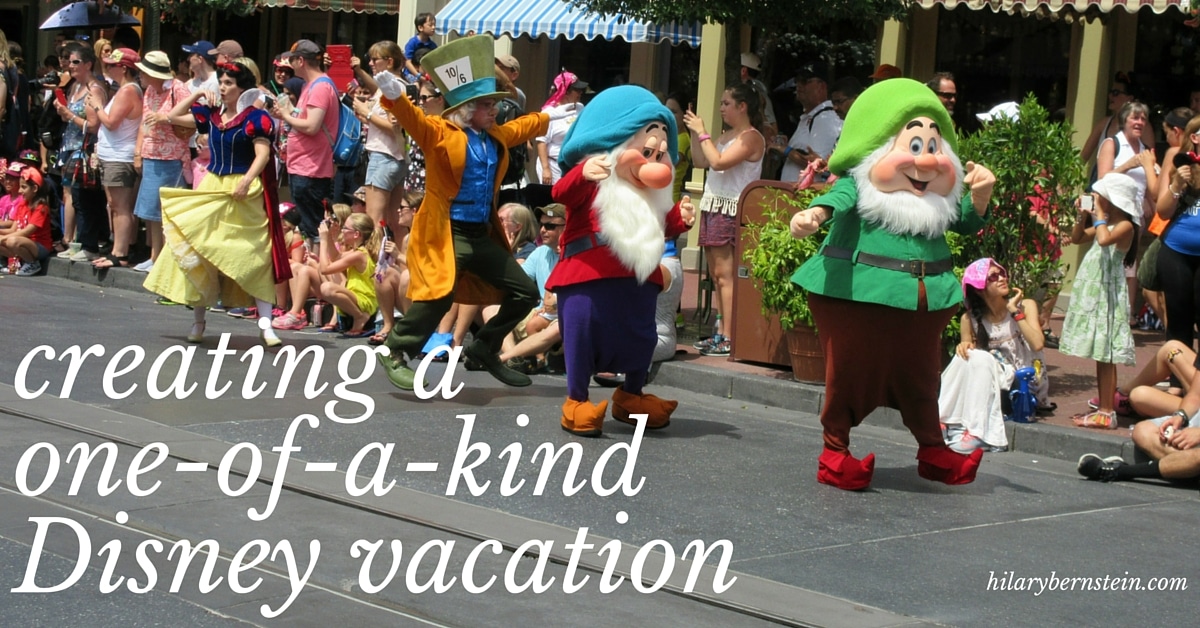 If you've visited Walt Disney World, what was your one-of-a-kind Disney vacation like?
Disclosure: Purchasing items through links in this post will result in a commission for No Place Like Home at no added cost to you. Thank you for supporting this website!
All images courtesy of Hilary Bernstein and Adobe Stock.