Create a Haven by Decorating with Meaningful Things
When you're creating a haven, decorating with meaningful things can make a huge difference!
Creating a haven is all about filling your home with belongings that appeal to you and your family members. When you enter a room, you feel at home, because you can look around and see things that are beautiful or meaningful to you.
In my own home, I've always done this with photos. As soon as I moved away from my parents' home during college, favorite pictures surrounded me in my freshman dorm room. Over the years, my framed photo collection only grew. No matter how homesick or heartsick I felt at times, looking at happy memories and favorite faces brought so much comfort and cheered me up like nothing else.
Aside from photos, my haven is filled with plenty of:
Meaningful gifts from loved ones,
Souvenirs I've collected,
Books, and
Decorating with meaningful things has been the easiest way for my home to look like a haven.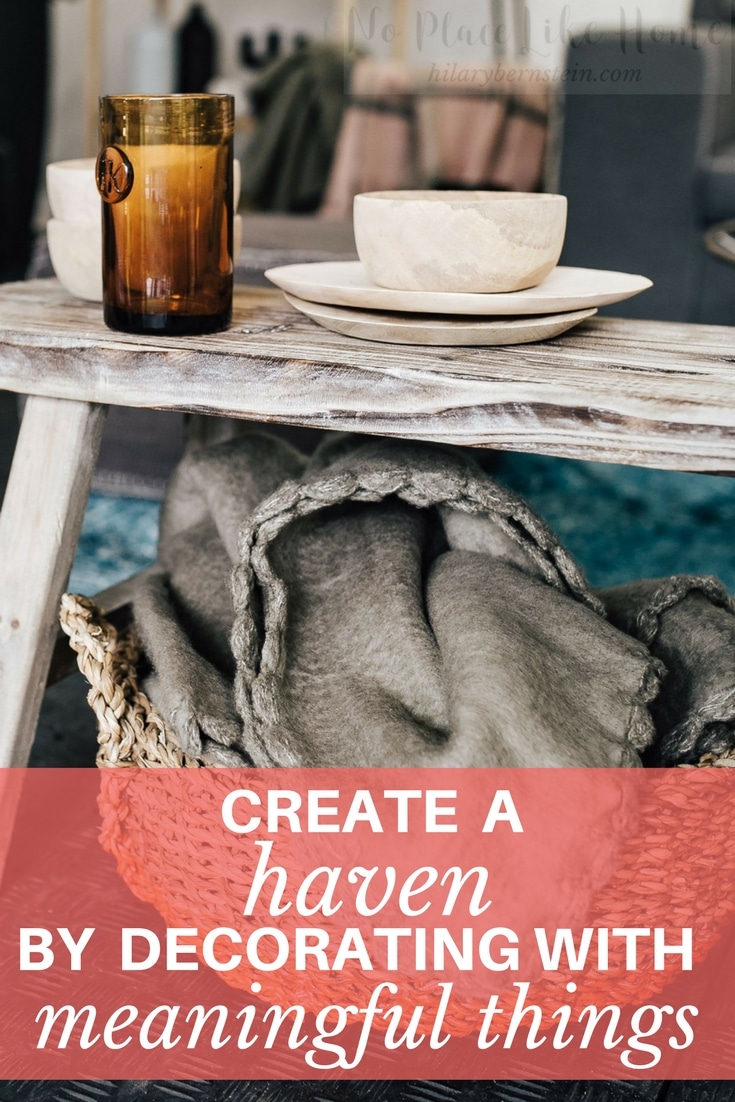 Typically I can tell a story behind just about everything that's on display in my home. And even if I don't share my stories with others, I think of certain people or places or moments when I look around my home.
Sometimes, though, I find truly interesting things that might not remind me of a certain person at all – but I know that I either need to display it in my own home, or save it to give as a gift later. Over the past few years, this has been the case with fair trade items.
When I find fair trade jewelry or fair trade home décor that looks great, I love to buy it. Not only does it look unique and is a conversation starter, but I also love knowing that I'm helping out others in developing countries.
I  either choose to keep these things, or give them as unique gifts. To me, knowing that I'm actually helping someone, instead of taking advantage of them with cheaply made – and cheaply sold – merchandise, is the best gift.
When giving and havens go hand in hand
Since I love to remember people and places with the things I own, I place a fairly big importance on finding the right things to give to my loved ones.  Ideally, I'd love to help others create their own havens. And if my gifts help in that process, the better!
When thinking of gift ideas, I gravitate toward giving things that include meaning. If I'm shopping and find something that reminds me of a favorite friend or family member, I buy it and save it for a birthday or Christmas.
While my interest started with Fair Trade Friday and my friend Melanie's Slave-Free Christmas, I've discovered some amazing products through World Vision.
Giving handcrafted gifts – and help
What I really love about World Vision's options is that by giving to their Where Most Needed fund – which is the real gift! – you get a handcrafted gift in return.
Last year I loved their upcycled artisan bowl – it's been holding seashells on my coffee table all year long!
This year I'm planning to give some of their handcrafted options. I can hardly wait to give the Heaton Hope Bracelet, Indian charm necklace, African soapstone box to a few of my friends!
I've also kept some of the handcrafted gifts for myself, like the infinity scarf crafted in India, the hand-embroidered Vietnamese tote, and the chalcedony wraparound ring from India. (When I've worn these items this fall, I like how they look – but I'm also reminded to pray for the artisans who have made them.)
Before I discovered World Vision's Where Most Needed handcrafted gifts options, I used to give animals for Christmas gifts – as in giving animals to people in need through World Vision, in the name of my gift recipients. For people who have absolutely everything, this is a fantastic gift idea. (Not only does it help someone who truly needs help, but it's also clutter-free!)
As you look to decorate your own haven or give something meaningful to help a loved one create a haven, don't forget about fair trade products. When you help others in the process – even if you don't know who you're helping – it can make what you own a lot more special. And that's a fantastic way to make your belongings appeal to you!
I'd love some ideas … when decorating with meaningful things, what do you like to use the most?
Disclosure: I received World Vision handcrafted gifts in exchange for this post. All opinions and experiences are my own. Links in this post may be affiliate links. This means that, at no added cost to you, I may make a commission on products purchased through these links. Thank you for supporting this website!
All images courtesy of Unsplash.