How to Make a Home Out of Second Best
Like it or not, sometimes it's essential to learn how to make a home out of second best.
Have you ever had the idea of a "perfect" home in your mind? Are you currently living there?
For many people, a dream home is just a dream. If you've ever watched HGTV's House Hunters, you've likely noticed that prospective home buyers know what home style they prefer – whether it's quaint and classic, or sleek and modern.
For me, while I can't visualize a specific house that would be my dream home, I lean toward a traditional, classic sort of home.
But I'm not living there right now.
The long journey home
My family is quite content in our 196o's split-level … but the journey to our current home was a long one. After buying a small but ideal home right before we started our family, my husband and I had to sell and move right after our youngest daughter was born due to a job change. Our family of four moved into a two-bedroom townhouse for a year, then transferred jobs – and moved – again.
We knew the move and job change was in a location we wanted to stay – so we fully intended on buying a house.
Fortunately my parents opened their home to us while we were house hunting, and we were excited to search for the "right" house.
So we started looking … and looking, and looking some more. We scoured the MLS listings and looked at 88 different houses in three different counties over seven months. That's not a typo; we visited 88 unique houses.
The thing is, we're not that picky. It's not like we insisted on granite countertops and walk-in closets and a particular amount of land and specific square footage. At the time we were incredibly motivated buyers and were open to any kind of live-able house in a relatively safe neighborhood.
We just couldn't find our home.
It wasn't for lack of trying. We put offers on five different houses, but nothing came to fruition … until we made an offer on our sixth house.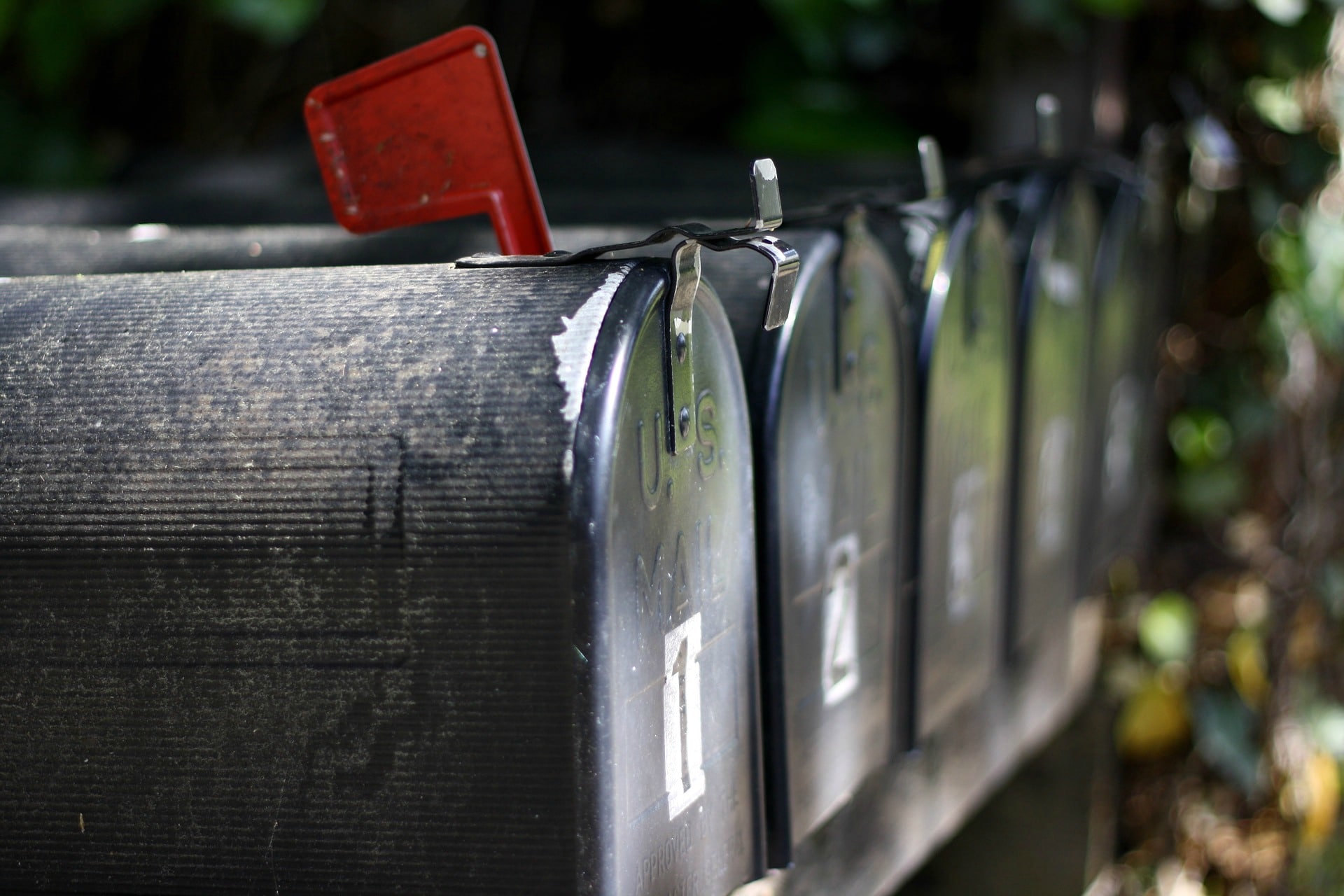 Finally our offer was accepted. Finally we were in contract. Finally we were going to have a home of our own.
But it was our sixth choice out of 88. It's like having to ask six potential dates before finally going to the prom – you're there and you're having a fine time, but it's not your ideal.
We ended up buying our home because we needed a place to live and we didn't think it was so bad. Not that we thought it was great. Not that we couldn't wait to live there. It just wasn't the worst that was available, and it had potential.
Since taking possession of the house, we gutted it, cleaned everything, and have been living there for the past four years. After hosting dozens of parties and playdates and waking up on Christmas morning and staying up late at night and running through the yard catching fireflies and shoveling snow in the winter and doing our homeschooling there, it's become our home. And it's become our haven.
Through our experience, I've learned that sometimes you need to make a home out of second (or third … or sixth) best.
Now, I'm actually afraid of the thought of leaving it – even though I know I'd love to eventually move into the traditional house of my imagination – because we've created so many precious memories with our family within that space.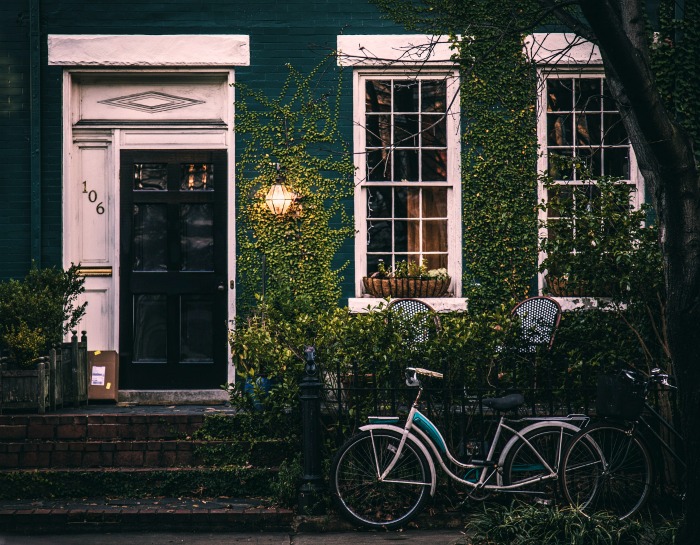 So how can you make a home when it's not your first choice?
When you're struggling with contentment over your home, remember that it's just a place to live for a season of life. Your home is not your identity. You won't spend eternity there. This earthly life will come and go. As good or as bad as it may be, you can't keep it forever.
Next, be grateful for the home that God has given you. Thank Him for your home when you're praying throughout your day. Trust Him for putting you in this particular home. Ask Him to bless your time in this space.
Once you're focusing on a thankful, accepting attitude, then turn the space into your home. Don't just leave things packed away because you feel like pouting. Objectively look at each room and think of your belongings. What would work best in each room? Use the things you love.
After you've settled in, get busy making memories. Invite people over. Add some decorations during the holidays. Try to do things that make it a home – cook or bake or clean. (Even if your new kitchen doesn't seem like it's good enough for cooking or baking.) Plant flowers, even if you just get a lot of practice in container gardening. Meet your neighbors and try to invest yourself in their lives.
Then give it time. Your new digs won't feel like home right away. That's just part of the moving process. But soon, you'll get into a new routine. You'll find where the light hits your kitchen just right in the morning. You'll know where the coziest nook is to curl up with a book. You'll take a nap on the couch and discover you can feel comfortable in this new space.
As you settle into your home, it actually may become a haven you and your family look forward to coming home to.
Slowly, but surely, this new place that wasn't your first choice will become your home. And someday, you just may be disappointed when it's time to move on.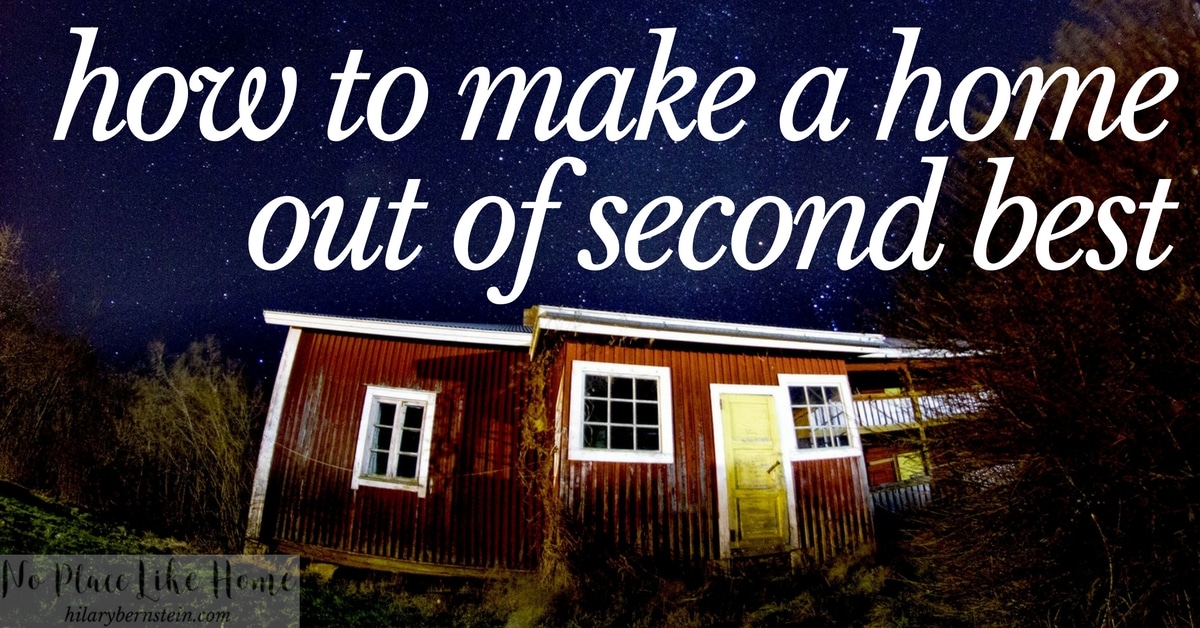 If you've had to make a home out of second best, what has helped you the most?
Disclosure: Purchasing items through links in this post will result in a commission for Home to a Haven. Thank you for supporting this website!
All images courtesy of Pixabay and Pexels.