How to Make the Switch to a Paper-Free Kitchen
Thinking about making the switch to a paper-free kitchen but you don't know what to do? Follow this easy 3-step process!
I used to love using paper in my kitchen – paper towels, paper napkins and, every now and then, paper plates.
In fact, the idea of a kitchen without paper never crossed my mind.
Several times a day I sprayed down my table and counters with antibacterial cleaners and wiped everything clean with paper towels. Even when I started using safe cleaners – whether Shaklee or homemade concotions – I still used paper towels.
Two years ago I started feeling guilty about using paper towels. Did I>reallyneed them?
I had discovered that I could clean with Norwex microfiber cloths and suddenly, I didn't need any sprays or paper towels. Without the need for cleaning sprays, I stopped buying paper towels, cold turkey.
Eliminating all paper products in my kitchen
Since paper towels were my big use of paper products, making the switch to cloth wasn't that terribly difficult. Here's what I've done:
Over the years I've stocked up when I've found great sales. I keep about two dozen on hand and wash them every couple days.
Aside from a stash of themed paper birthday napkins, I don't keep any paper napkins in our home.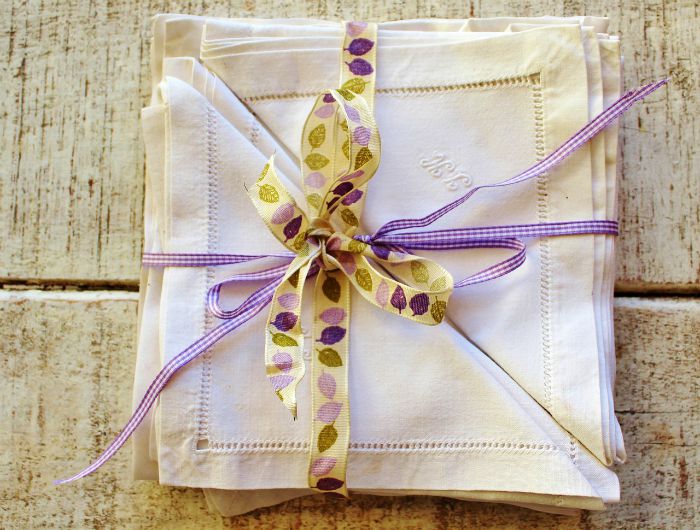 I've stopped buying paper towels and have found ways to make do.
I use Norwex microfiber for all of my cleaning. I use cloth kitchen towels for drying my hands – and dishes. (I make a change to fresh towels every day, or more often, if necessary.)
I do miss paper towels after I've fried bacon or need to cool a batch of cookies. I've started using old linen tea towels instead of paper ones to absorb the grease. Because they're old, I don't mind if they end up with stains.
(I also could and sometimes do use a cooling rack.)
I don't buy paper plates.
Without paper plates in my house, I have no choice to use anything but my stoneware Fiesta plates.
I don't miss paper plates at all – and I can say that even when living without a dishwasher. (I wash all of our dishes by hand!)
Instead of using paper lunch bags, I use resuable lunchboxes.
Or, we recycle plastic shopping bags as lunch bags.
I do keep a roll of waxed paper and a roll of parchment paper on hand for baking needs, but one box of each easily lasts more than a year.
Your paper-free kitchen
Making the switch to cloth isn't as difficult as you may imagine. Here's a simple 3-step process for you:
1. First, make a decision to stop replenishing paper goods.
2. Then, prepare.
Watch for great deals on cloth napkins (trust me, they're out there!) or reusable lunchboxes.
Gather all of your dishtowels so you have a handy stash for moments when you'd typically grab a paper towel.
3. Finally, enjoy the savings!
By eliminating paper products from your kitchen, you're not only reducing waste, but you're also saving money. And both are fantastic reasons to make the switch to a paper-free kitchen.
What steps are you taking toward a paper-free kitchen? What paper products do you still use?
Disclosure: Purchasing items through links in this post will result in a commission for No Place Like Home. Thank you for supporting this website!