The Best-Ever Soft and Chewy Sugar Cookies
Looking for the perfect sugar cookie recipe? Look no further than these best-ever soft and chewy sugar cookies!
Wish you had a sugar cookie recipe that was SO delicious people craved them?
I have just what you're looking for!
Every December, I pull out my recipe for sugar cookies – the same recipe my mom has been making for the past 35 years. I have no idea where she found the recipe, but she's been making the Best-Ever Soft and Chewy Sugar Cookies for decades.
And they live up to the name. Soft and chewy, I could eat a whole bunch of these sugar cookies, especially once they're frosted.
Since I've been asked for this recipe more times than I can count, I decided to share it so everyone can enjoy. (Even the pickiest cookie snobs!)
The original recipe makes at least 8 dozen cookies, sometimes more depending on the size of cookie cutters, so I often cut the recipe in thirds … if I only want a few cookies, I make a third of the recipe. If I want more, I make two-thirds. And if I have a lot of time to spare, and have enough energy for the rolling, cutting, and frosting (or I simply need to give away a lot of cookies), I go for a full batch.
Not only are these cookies fun to make with my children, but I also I love to make them to serve my guests and my family. As I try to use all five senses to create a haven, these Best-Ever Soft and Chewy Sugar Cookies add a perfect taste in my home!
One simple secret that will save your sanity (and time!)
So often in the middle of seasonal hectic-ness, there just isn't much time for baking. Especially if you know you need to make 8 dozen sugar cookie cutouts but you just can't devote an entire afternoon to a bake fest.
I feel your pain. Because my schedule in December can fill up quickly but I still want baking to be part of my family's holiday traditions, I found a solution I love.
Freezer baking.
Just like freezer cooking helps homemakers prepare meals when they have extra time – and meals (or portions of meals) are then conveniently kept in the freezer, freezer baking is so convenient.
By baking cookies, breads, cakes or pies ahead of time, you can cool, freeze, and then thaw them before serving.
I love baking several varieties of Christmas cookies at the beginning of December, then freezing them until I need to thaw several (or several dozen) to take to Christmas parties.
I've used this method when I had a small refrigerator freezer in apartments, and I use it now when I have a chest freezer. It can work anywhere, as long as you have a freezer. And it's an enormous time and sanity saver. (Who couldn't use that?!)
How to freeze cookies
If you're making drop cookies, you can freeze balls of dough to bake later for freshly baked cookies. Or, bake the cookies and then freeze them.
For The Best-Ever Soft and Chewy Sugar Cookies, I bake the cookies first, let them cool, then stack them in disposable square foil baking pans. Once a foil baking pan is full, I cover with aluminum foil, crimp the foil over the pan's edges, and then put the entire cookie package in a gallon-size resealable plastic bag.
Depending on how much time I can devote to my batch of sugar cookies, I either leave them unfrosted and freeze, or I frost and decorate them and then freeze.
If at all possible, I try to frost them before freezing only because it's much easier to pull out completely finished cookies to thaw and serve.
By using freezer baking for my holiday goodies, guests can stop by at a moment's notice and I can serve home-baked desserts like these Best-Ever Soft and Chewy Sugar Cookies within a matter of minutes. That's the perfect recipe for stress-free, homemade holidays!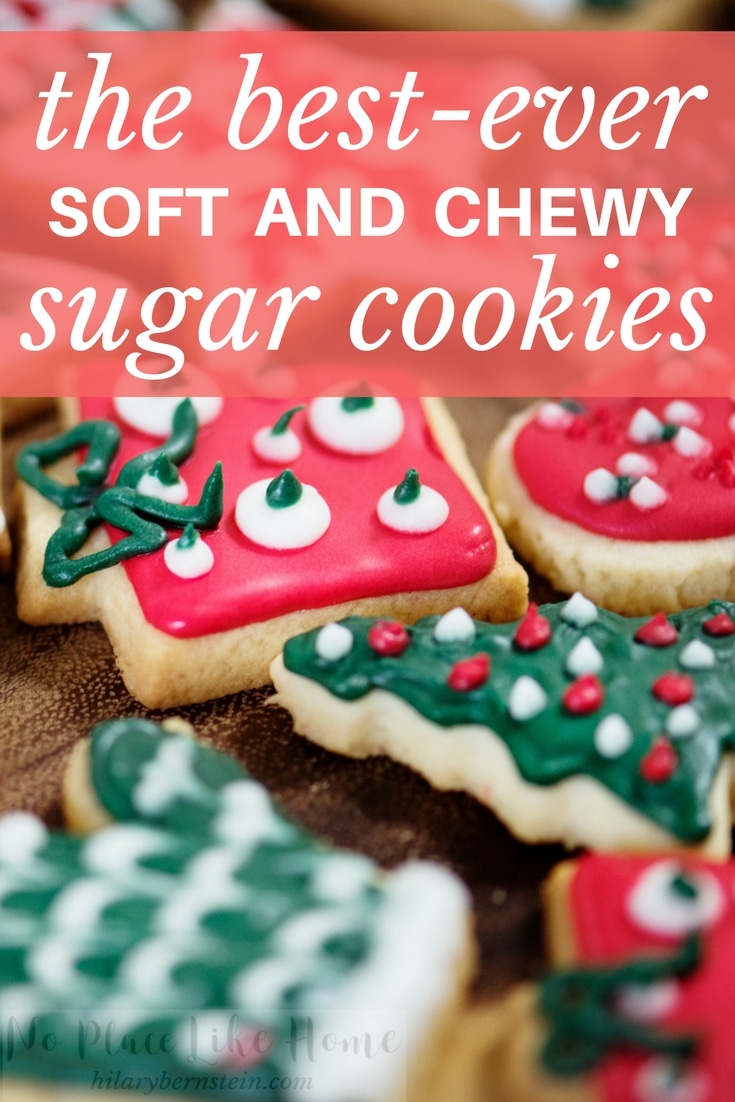 The Best-Ever Soft and Chewy Sugar Cookies

Ingredients

3 eggs
3 cups granulated sugar
1 1/2 cup butter
1 can evaporated milk
2 Tbsp. white vinegar
3 Tbsp. pure vanilla extract
8 cups unbleached all-purpose flour
1/2 tsp. salt
1 1/2 tsp. baking soda
4 1/2 tsp. baking powder

Directions

Beat eggs well. Add sugar and butter. Continue beating.

In a separate bowl, add vinegar and vanilla to evaporated milk. Add milk mixture to first 3 ingredients and keep beating.

Sift flour, salt, baking soda and baking powder together. Add to batter. Mix well.

Chill cookie dough well (at least half an hour). If your dough seems excessively sticky, stir in additional flour in 1/4 cup increments until it's firm enough to roll out. Depending on the humidity of your kitchen's location, you may need to add a lot of extra flour. Or, your dough may roll out fine with the suggested 8 cups and a long chill in the refrigerator.

Roll out small batches of cookie dough on lightly floured surface. Use cookie cutters to cut out cookies. Place on baking sheet and bake at 375 degrees for 6 to 8 minutes. Be careful not to brown.
Once my sugar cookies are baked and cooled, I like to whip up this homemade buttercream frosting and decorate.
Buttercream Frosting

Ingredients

1 cup butter, softened
1 1/2 tsp. pure vanilla extract
1/8 tsp. salt
5 cups powdered sugar
1/4 cup + 1 Tbsp. milk

Directions

Cream butter in a large bowl using a mixer. Add vanilla and salt. Gradually add powdered sugar, one cup at a time, beating well at medium speed after each addition. Add milk and beat at high speed until light and fluffy.

Keep icing covered until ready to use. Store in the refrigerator when not in use.
Disclosure: This post originally was published as Meemaw's Best-Ever Soft Sugar Cookies in November 2015. Links in this post may be affiliate links. This means that, at no added cost to you, I may make a commission on products purchased through these links. Thank you for supporting this website!
All images courtesy of Pexels and Pixabay.