A Super Simple Secret to Festive and Frugal Christmas Decorating
Looking for a festive and frugal Christmas decorating strategy? Here's a super simple secret that will look great in your home!
Have you ever stopped to notice exactly how beautiful everything looks at Christmas time? Lights transform ordinary nighttime sights into something magical. Bright colors bring unexpected cheer to rooms. Festive decorations brighten spaces.
But if you're not comfortable with decorating, or if you feel less than creative, you may not know what to add to your home. And if you're on a budget, you may just not have enough extra money to spend on festive decorations. As much as you love looking at Christmas decorations and displays in stores or other homes, you just may not be sure how to make it part of your home.
After I noticed a tasteful decorating idea in quite a few home stores and Christmas displays, I decided to try it on my own a few years ago– and I haven't looked back.
It's simple, resourceful, and, depending on what you already own, it's free.
My secret to festive and frugal Christmas decorating is so super simple I'm almost embarrassed to share it.
But I will.
My Super Simple, Festive & Frugal Christmas Decorating Secret
Once my Christmas tree is up and decorated and I know I need to add a festive pizzazz to the rest of my home, I look for what I already have – clear glass jars and containers of all shapes and sizes.
I dig out my footed trifle bowl, Mason jars, hurricane vases, and tall, wide glass cylinder vases.
Once I've gathered all my glass containers, I fill them with glass Christmas bulbs of all sizes and colors.
Then I place them around my home in spots that could use a little splash of color … and could look a lot merrier.
My trifle bowl holds red, green and silver bulbs as our dining room table centerpiece.
Glass vases filled with red, turquoise, lime, orange, and pink bulbs bring Christmas cheer to our mantle.
A huge bowl of mismatched vintage glass bulbs decorates a bookshelf.
And a red bowl of green glitter-coated plastic bulbs is displayed on my coffee table.
That's it. My easiest, peasiest Christmas decorating secret of all. Fill clear glass containers with simple Christmas bulbs.
How to make it frugal
Decorating doesn't have to be difficult. And it doesn't have to break the bank.
Aside from using my collection of glass containers, this particular way of decorating is so absolutely affordable because I reuse the same bulbs year after year after year. And some of the bulbs, like my vintage ones, were passed along from my mom and grandma.
When I first tried – and loved – this decoration, I hit the stores after Christmas and stocked up on decorations priced at mega clearance prices. I have an entire plastic tote of glass bulbs that I use each year, but only paid about $10 for the entire collection. Dollar stores and thrift stores are other great places to nab ultra-cheap but cute ornaments … or glass containers.
How to make it kid-friendly
If you have children and the thought of jars filled with glass ornaments makes you shudder with baby-proofing fear, you still can use the idea.
Simply choose plastic ornaments that look exactly like glass bulbs. Put them in clear plastic containers, and you have a festive, kid-friendly decoration.
How to make it last long after Christmas
I love the simple look of glass containers filled with a collection of interesting objects, so I recycle my decorating idea throughout the year. After my Christmas decorations are stored away, I've filled my glass jars and bowls with:
Seashells
Buttons
Coffee beans
Polished pebbles
Plastic Easter eggs
Wine corks
Colorful marbles
Candy
Now that I've shared my festive and frugal decorating secret with you, you can add a tasteful touch of cheer to your home this Christmas.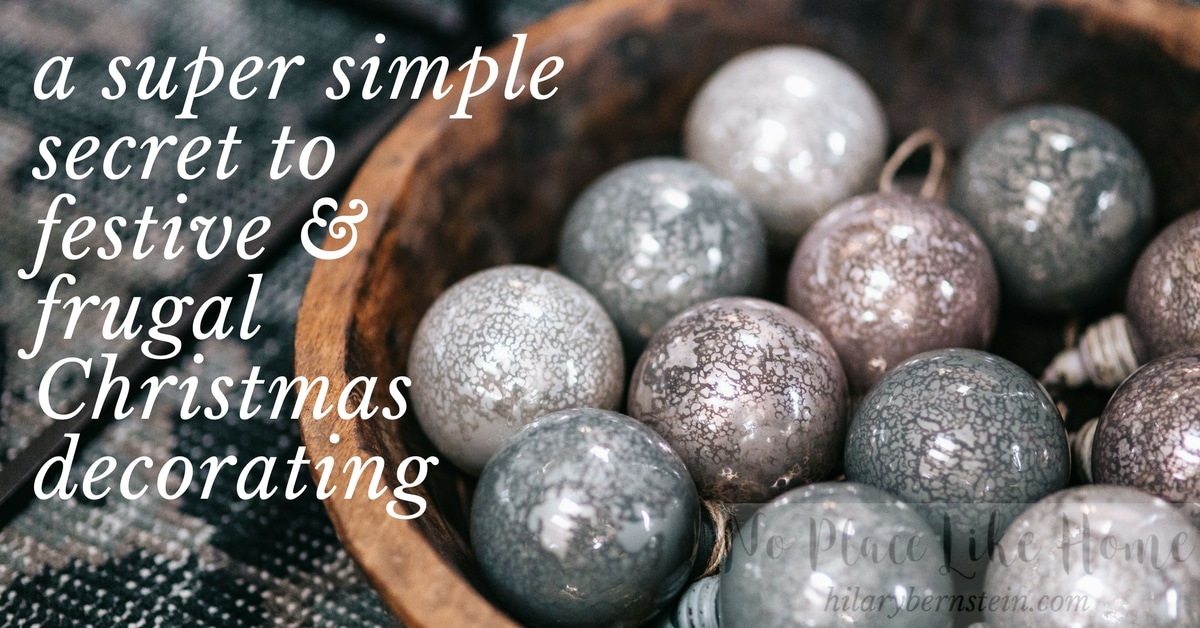 What is your favorite Christmas decorating secret? What do you like to add to your home for a festive and frugal Christmas decorating touch?
Disclosure: This post originally was published Dec. 1, 2015. Links in this post may be affiliate links. This means that, at no added cost to you, I make a commission on products purchased through these links. Thank you for supporting this website!
All images courtesy of Kaboompics and Pexels.