My Top 3 Reasons to Wear an Apron
Why wear an apron in your home? Here are my Top 3 reasons to wear an apron.
If the thought of aprons conjures up dowdy, old-fashioned stereotypes, it's time to reconsider your notions.
Twenty-first Century homemakers do choose to wear aprons. And while I can't speak for every apron-wearing homemaker, here are my personal Top 3 reasons to wear an apron:
1. Aprons protect clothing.
After staining my clothes with grease and food stains while cooking without aprons, I am thankful aprons protect my clothing.
When I wear my apron, I can avoid stubborn stains when I'm preparing meals … or sudsy water while I'm washing dishes.
Protecting my clothing means that I have less laundry to do, plus I end up saving money by saving my clothing from stains.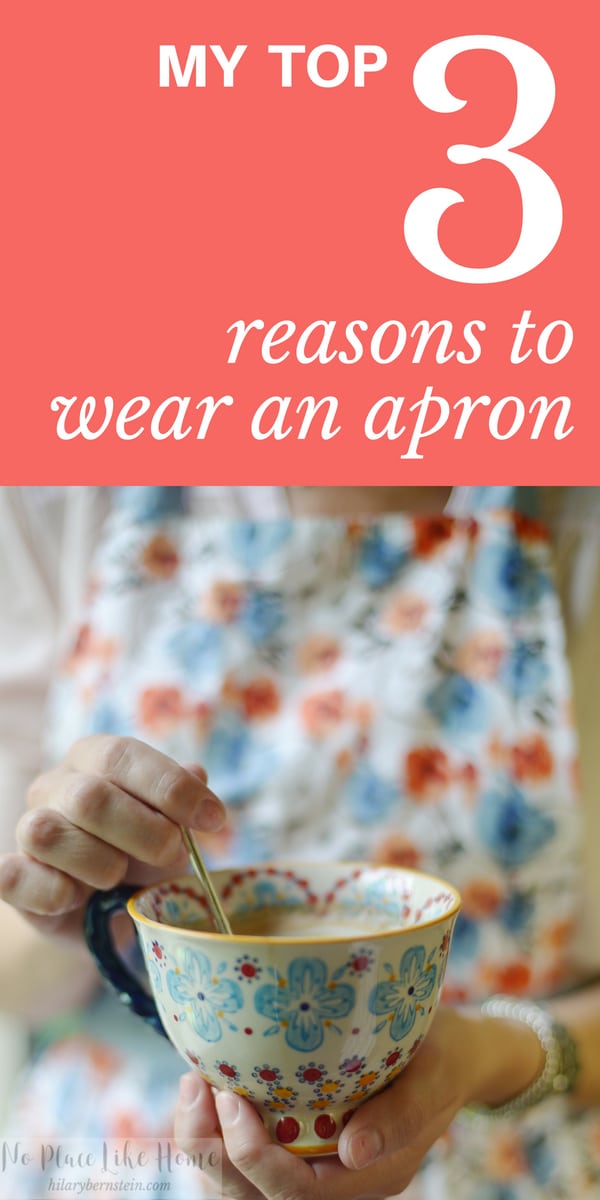 2. Aprons keep me focused on my housework.
I'll admit it … when I'm working around my house without an apron on, I'm very likely to get distracted.
My multi-tasking brain takes over, and before I know it I'm forgetting about culling my paper piles and switching to returning phone calls or taking mail to the mailbox or jumping ahead on my to-do list.
Yet when I'm wearing an apron, I'm focused on the tasks at hand.
I get dishes washed quicker.
I stick to cleaning the bathroom.
I hurry and vacuum the floor.
It's like I know I'm wearing a homemaking uniform of sorts.
It may be a figment of my imagination, but I bet that I actually spend less time cleaning when I'm wearing an apron, just because I stay on task and get my work done quickly.
Before I know it, I'm hanging up my apron and moving on to something else in my day.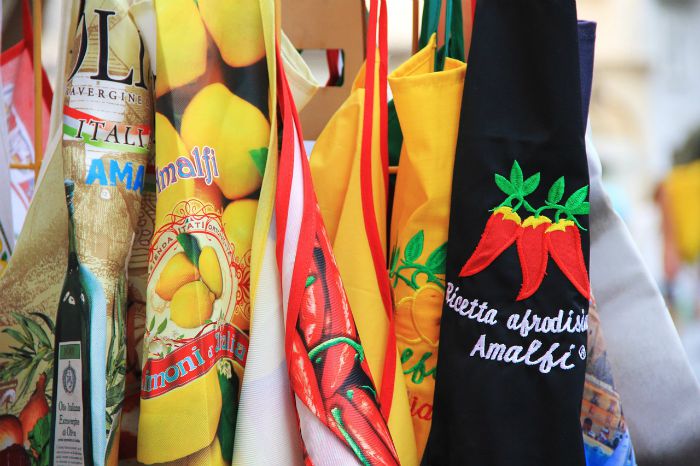 3. Aprons let other people know I'm working – and that I embrace homemaking.
Wearing an apron has become a no-brainer to me.
As long as I'm working in my kitchen, my apron's usually on. I forget about this when company comes over and I'm working on last minute food prep … on a couple of occasions, male guests have been surprised to see me wearing an apron.
When they've commented about the surprise of seeing a woman wearing an apron, I smile to think of how an apron is a small way to show that I appreciate homemaking.
Wearing an apron doesn't just send a message that I embrace homemaking, but that I'm busy at work.
Whether it's my children, a neighbor, or a delivery driver, it's obvious that I'm in the middle of doing housework – and I will have more time to chat once I take my apron off.
Bonus Reason: Aprons are cute.
I know some aprons can be boring … but unless you prefer plain aprons, why would you choose one?
I love the selection of aprons homemakers can choose from today. From sassy to sweet, there's an apron to fit your style.
I've started a collection of my own aprons – some have been handmade for me, others have been given as gifts, and still others I've chosen for myself – and I love to switch my aprons depending on the season.
As I wear them, I'm able to stay focused on my housework, protect my clothing, and use them as a sort of uniform for my homemaking responsibilities. To me, those are fantastic reasons to keep wearing aprons.
Do you wear aprons in your home? What are your top reasons to wear an apron?
Disclosure: Purchasing items through links in this post will result in a commission for No Place Like Home. Thank you for supporting this website!
Images courtesy of Unsplash and Pixabay.