When You Don't Have Time for More Than Basic Cleaning
Even when you think you don't have time for more than basic cleaning, here's a great way to manage your housework!
In your home, do you ever want to do more than just the basics … but feel like you have no time?
Most days, I'm well aware of all the major projects I'd like to work on around my home. But when I look at my calendar and remember everything else I need to do for the day, cleaning and housekeeping can easily fall aside.
It's easy to start wallowing in discouragement when you know your home projects require so much time and energy … and you fully realize you don't have the necessary time or energy.
Busy seasons come to everyone's lives – and, depending on work and family commitments, these busy seasons could even last for years.
So if you're never home – or if you're home and are consumed with life – how can you care for your home? What do you do when it's hard enough to just squeeze in maintenance cleaning?
The answer isn't easy. In fact, it might even be hard to hear. But it will help you get beyond basic cleaning chores.
How to care for your home when you don't have the time
The solution to the "I just don't have time for more than basic cleaning" conundrum is … create the time.
Creating time seems to be an impossibility, right? After all, in my current stage in life, I'm wishing for 40-hour days, 7 days a week so I can have time to fit everything in. But all the wishing in the world doesn't make it happen.
God created 24-hour days for each of us. Each one is a gift from Him. So how in the world can we possibly create the time?
Creating time is more of a result of prioritizing your day well and learning to say no to non-essential things. It also has everything to do with self-control.
Like it or not, you are the one calling the shots about how you spend your free time – even how very little of it you may have. You have the choice to spend that free time however you think best.
As Elizabeth George writes in her book, A Woman's High Calling:
"Devote 30 minutes a day to some kind of home improvement. At least begin with half an hour! Sometimes we avoid being at home because it's the scene of chaos and clutter and confusion. Our nooks and crannies and counters and closets are filled with stacks and piles that have become eyesores … and frankly, life is more lovely when we are not having to look at these seemingly-monumental tasks and not having to face such a mess. The scripture from the lips of Jesus applies once more – 'where your treasure is, there your heart will be also' (Matthew 6:21). So devote the 'treasure' of 30 minutes to bettering your home-sweet-home. That small endeavor will gain dividends in your heart (not to mention your home!)."
What if …
Of course, some situations can drastically change this for you – caring for a newborn, caring for sick or dependent family members, or a long-term illness. In these cases, you can really feel like you have absolutely no control over how your time is spent. And, in all actuality, you may not have any control.
But in day to day life, you may have more free time than you realize. It might show up in tiny pockets of down time between your major responsibilities … but it's there, tucked away like a hidden treasure.
In those moments – five minutes here, two minutes there – you can choose to add caring for your home as a priority and make the most of the tiny bits of time.
You may not have 30 minutes a day to devote to your home like Elizabeth George suggests, but any time you can give can make a difference.
Choosing a chore
As an example, let's say you know that your entire home is a wreck. You're stressed out with work responsibilities, and you're exhausted when you come home at night. It takes all of your energy to wash dishes after dinner. You want to create a haven, but … you just feel exhausted.
In those moments, when you're tempted to start working on your work from home or collapse on the couch to zone out either with the TV or social media, don't. Take five extra minutes – just five! – and choose one tiny project in your home. You could start by organizing and purging one single drawer in your kitchen.
Do just one extra deep cleaning chore in just one room, and then move on with the rest of your day.
But each day, keep doing one extra deep cleaning chore.
And if you're feeling more energized on certain days, pick two extra deep cleaning chores.
If you share your home with other people, get them in on the five minute daily challenge, too. So you're not feeling completely overwhelmed by the thought of caring for your home, you could take five minutes as a family and have every person work on one small project of their own.
As you're working on these small chores, try to stick to one room at a time. When you finally work your way through deep cleaning or purging or organizing that one room, then move on to the next room.
It might take you a while to complete your projects, but that's completely OK. You're accomplishing something! You're doing more than just basic cleaning, even if it's just a little bit each day.
For example, last week I started deep cleaning my basement. There's no way I can get it all done in a day – or even two or three. So I'm devoting an entire month to the task, breaking it up into little doable chores every couple days.
On days when I know I have a little extra time at home, I'm spending 15 to 30 minutes working on specific tasks. By the end of the month, my basement will be nice and clean, but the cleaning project won't exhaust me.
As you make your bigger home projects a priority and look for ways to get housework done in small chunks – even when you feel like you're out of energy – you'll start to notice a difference in your home.
Eventually you'll start to tackle bigger projects, even when you don't think you have the time for more than basic cleaning.
Before you know it, you'll start working on more than just the basics regardless of how much time you have at home. And you'll find that you're able to squeeze in more (even if it's just five minutes more!) than just maintenance cleaning into your days.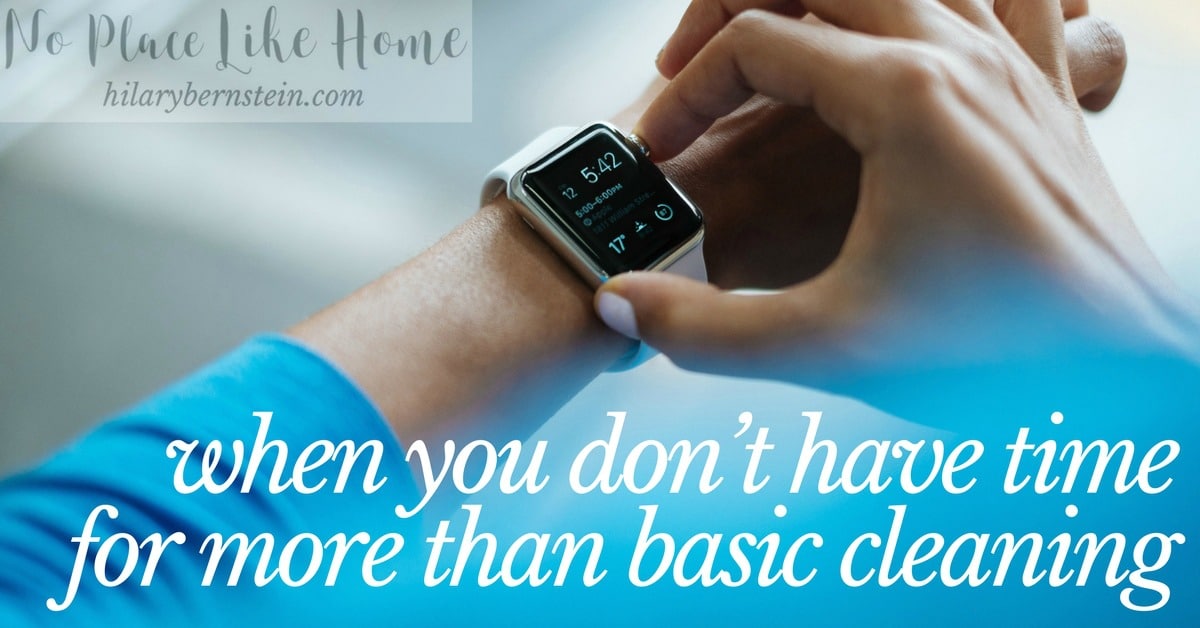 How do you manage your home when you are tempted to think you don't have time for more than basic cleaning?
Disclosure: Links in this post may be affiliate links. This means that, at no added cost to you, I may make a commission on products purchased through these links. Thank you for supporting this website!
All images courtesy of Unsplash.