Learning to Pray Throughout Your Day
Praying is important – but sometimes difficult to remember. Yet you can cultivate your prayer life by learning to pray throughout your day.
If reading the Bible is so important because it's God's communication to us, prayer also is important because it's one way we can communicate with God.
Prayer is a spiritual discipline that's vital – and the Bible, though, shares plenty of instruction about prayer:
Rejoice always, pray without ceasing, give thanks in all circumstances; for this is the will of God in Christ Jesus for you. (1 Thessalonians 5:16-18)
In everything by prayer and supplication with thanksgiving let your requests be made known to God. (Philippians 4:6)
Watch andpraythat you may not enter into temptation. The spirit indeed is willing, but the flesh is weak. (Matthew 26:41)
But I say to you, Love your enemies andprayfor those who persecute you. (Matthew 5:44)
Rejoice in hope, be patient in tribulation, be constant in prayer. (Romans 12:12)
I've never truly reached the point of praying without ceasing – or even praying as much as I'd like. But I have noticed that the more often you pray, it comes more naturally.
It's like once you get used to talking to God throughout your day, you'll just naturally fall into a rhythm of talking to Him more.
You notice His hand at work in your life, directly answering your prayers.
And you long to talk with Him more.
In his book Systematic Theology, Wayne Grudem writes,
"Prayer is not made so that God can find out what we need, because Jesus tells us, 'Your Father knows what you need before you ask him' (Matthew 6:8). God wants us to pray because prayer expresses our trust in God and is a means whereby our trust in him can increase. In fact, perhaps the primary emphasis of the Bible's teaching on prayer is that we are to pray with faith, which means trust or dependence on God.

"… Praying in humble dependence also indicates that we are genuinely convinced of God's wisdom, love, goodness, and power – indeed of all of the attributes that make up his excellent character. When we truly pray, we as persons, in the wholeness of our character, are relating to God as a person, in the wholeness of his character.

"… It is only natural that God would delight in such activity and place much emphasis on it in his relationship with us."
Finding natural pauses to pray
If you're not inclined to pray very often – but you'd like to – I've found five natural pauses where you can pray throughout your day:
1. When you wake up.
Before you even get out of bed, thank the Lord for a brand new day, and pray for Him to use you and work through you in this day.
Pray for any other requests that come to mind. (Usually, I'm a little too tired to think clearly, but I do typically ask for His guidance and for Him to help me serve Him in any situation.)
2. As you read the Bible.
If you spend time reading the Bible in the morning, pray once you've read and meditated on Scripture. Pray for the Lord to reveal how you can best apply His Word to your life.
Instead of coming to the Lord with a list of prayer requests and your own intentions before you dig into His Word, try reading Scripture first. Once you've considered what you've read, begin your prayers. Watch how your perspective changes.
Discover what the Bible says about prayer – and how you can use biblical truth to build your own prayer life – in Hilary Bernstein's book, Prayerful Living. It includes over 200 devotions, scriptures, and prayers all about praying.
3. Before meals.
Breakfast, lunch, dinner … thank the Lord for His provision of food. And while you're at it, thank Him for the other ways He has blessed you.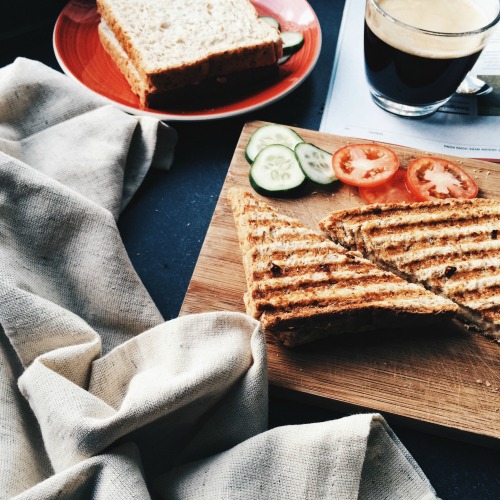 4. As you wait.
Whether you're waiting at a traffic light, in a long line at the store, or if you're put on hold during a phone call, use the natural pause to stop and pray about the concerns on your mind.
Pray about people who come to mind. Pray about situations that are causing you stress.
5. Before you sleep.
It may be as you tuck your children into bed, or when you finally crawl between your sheets. Before you drift to sleep, thank God for your day.
Tell Him about any pressing concerns. Ask Him for guidance. And praise Him for who He is and how He is working in your life – and in the world.
As you begin to pray more, you'll experience why it's such a vital spiritual discipline – and why it's an amazing form of communication.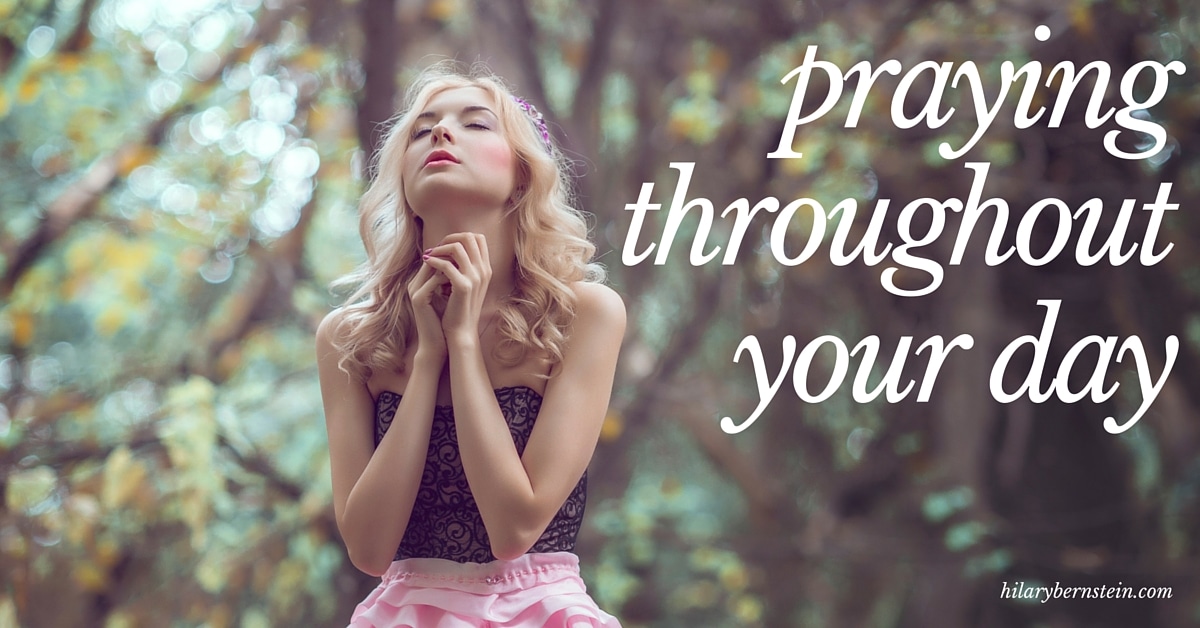 How have you found ways to make praying throughout your day a reality?
Disclosure: Purchasing items through links in this post will result in a commission for No Place Like Home. Thank you for supporting this website!
All images courtesy of Pixabay.