What to Do Before Your Husband Gets Home
Stay-at-home moms, have you ever wondered what to do before your husband gets home?
Stay-at-home moms, you know the situation all-too well. You're home with your children all day long and life just happens.
You change diapers. You get breakfast and lunch. You get the mail. You try to complete a load of laundry. You kiss boo-boos and read stories and retrieve out-of-reach toys and comfort wailing sobs and clean a whole bunch of spit-up.
Before you know it, you look at the clock and your husband should be on his way home.
Once he gets home, he'll ask the same polite questions as every day: How was your day? What did you do?
You'll look around, see your disaster of a house, think that you accomplished a whole bunch of nothing … and you won't know how to answer.
Even though your husband knows how horrid your child's temper tantrums are, calming a meltdown doesn't exactly sound like much of an accomplishment. (Trust me, though, it IS.)
Grocery shopping may be a huge triumph – especially if you're taking your young children along with you! – and that, along with naptimes and feedings, is truly the biggest part of your day. But it doesn't sound like much. (It IS a big part!)
And you may be ecstatic that your potty-training toddler only had two accidents today. (That IS something to celebrate!) But no one else is quite as excited as you.
Those things don't always feel like much, in the grand "what did you do" scope of your day. Even though they truly are much in the life of a mother. (And in the lives of your children!) Even though your husband truly appreciates what you do for your family.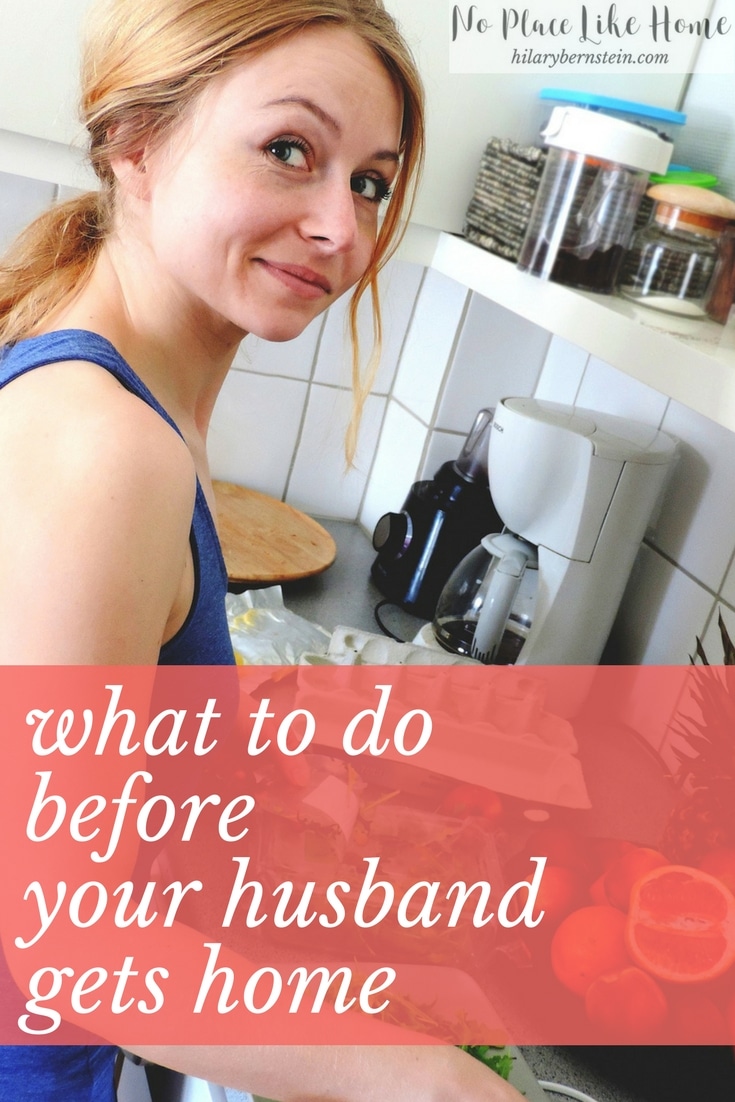 Appearing like you're getting something done
To create the appearance that you did get something done around the house during your day – and to create a haven for your husband, yourself and your children – I have a suggestion that's worked for me in my home.
All morning long, as my children play and learn and just enjoy being kids, we have a great time together – and we don't care about what our house looks like. If toys and crafts and books are all scattered, it's OK.
BUT. (And this is a big but.) After lunch, before it's time for resting, we all stop and clean up. We know my husband is in a much better mood if he comes home after a long day of work to a clean house. (Total house of chaos? Totally out-of-sorts husband.) And I'm in a much better mood if my house is picked up.
After years spent focusing on my babies and work-at-home job and leaving the house looking as frazzled as I felt, I realized the very quick clean-up was a practical way to show my husband I was thinking of him and that I appreciate him, because I do. (Remembering to tell him that I appreciate him every now and then works wonders, too!)
Plus, by tidying up, I ended up appreciating our home more, instead of wanting to scream over how rough my day was. Bonus.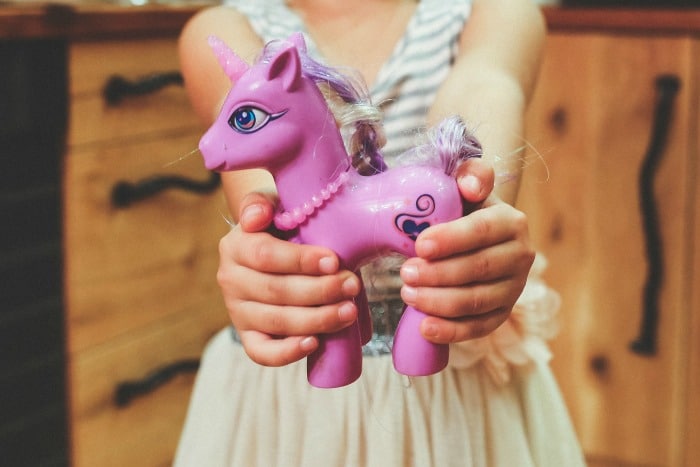 By doing a quick clean together, I'm able to teach my children how to pick up after themselves. Our house is picked up once everyone settles down for an afternoon rest. And it stays picked up. (If we haven't finished it all together, I quickly finish.)
I make sure lunch dishes are washed.
I make sure the mail is sorted and on the table. (By pitching junk mail as soon as it comes in my house, it helps cut back on paper clutter.)
I make sure baskets of clean laundry – even if they're not folded – are taken to my bedroom to be folded and put away later.

When my husband comes home, I want him to see a clean kitchen, clean living room, and clean dining room. It's what I would love to see if I came home after a long day of work. The floors may not be swept, and the windows aren't sparkling clean, but the clutter is gone. Everything looks put together.

It looks like I've accomplished something in my day.

If my husband gets home a little later than usual, I have already started supper for our usual dinnertime. If he's on time, he likes to do the cooking. (I like when he does that, too!)

One of my secrets to success

In order to do this and to keep my sanity – and a clean home – with young children after naptime, I use the TV as a babysitter.

Our children's daily screentime is after their afternoon rest – that's it. It helps to keep our home clean and it gives me some quiet time to work in the kitchen. When I've tried to get dinner ready without it, I end up having to break up arguments and wrangle my kiddos.

Is televised babysitting ideal? Of course not. But after trying different alternatives, I've found that it works well for my family.

Creating a peaceful atmosphere

With my picked up house and supper preparation, I've stopped feeling guilty when my husband comes home and asks about my day. I may have faced the same challenges as usual, but instead of looking like I got absolutely nothing accomplished, I look and feel like I did something – even if it was only dishes and a quick clean-up.

Plus, by doing a quick clean-up of a few rooms before my husband gets home, I'm able to add a peaceful atmosphere while showing my husband my love in an incredibly tangible and practical way.

I'm curious … if you're a stay-at-home mom, how have you decided what to do before your husband gets home?

Disclosure: Purchasing items through links in this post will result in a commission for Home to a Haven. Thank you for supporting this website!