4 Simple Ways to Make Your Home Smell Great
You can make your home smell great with these 4 simple tips.
When I was fresh out of college and living in my first apartment, I tried so hard to make it smell wonderful. So I bought plug-in air fresheners for every single room and changed the scents every month.
My apartment smelled fragrant for sure. But it was a little too potent. As in … the air freshening was downright overpowering.
Smell is such a powerful sense. And as I quickly found out, a little bit of fragrance can go a long way.
Scent definitely is a sense you need to focus on when you're creating a haven. Even if your home looks great, if it's accompanied by an awful scent your entire experience is affected.
For example, a charming farmhouse might look like it's graced the pages of a home magazine … but if the manure smell is so strong it makes your eyes water, you won't want to spend much time there at all.
As you're thinking about what scents to add to your haven, you don't have to waste your money on plug-in air fresheners. And you don't have to spend time baking a fresh loaf of bread or batch of cookies whenever you want to add a great smell to your home.
I've tried these 4 simple ways to make my home smell great … they'll be able to make your home smell great, too!
4 Simple Ways to Make Your Home Smell Great
1. Be choosy with your cleaning products.
Adding a fantastic scent to your home can be as easy as cleaning with products that smell wonderful.
Here's the thing, though – the pleasant scents in your cleaning products shouldn't be "April Fresh" or "Mountain Clean." If you're using cleaning products with heavy, synthetic fragrances, they're most likely harming your health – and your family members' health.
As great as fragrances are, if they're hazardous to your health, they're not so great after all. In fact, they're pretty awful.
It might seem like it's an impossible challenge. How in the world do you clean with something that's both safe and smells good?
You'll need to do a little bit of homework, but I promise it will be worth it.
First, before you use any other scented products, check the safety on the Environmental Working Group's Guide to Healthy Cleaning. If your product has a passing grade, keep using it.
If you find out your product's only hurting your health, it's time to make a switch. Search the Guide to Healthy Cleaning for safer alternatives.
Finding good smelling safe products
After years of cleaning with unhealthy products, I made the switch to safer cleaning products – and my home was left either smelling like a bottle of vinegar. When my husband couldn't take the vinegar scent anymore, I knew something had to change. I discovered Norwex and loved it, but there was absolutely no scent after I cleaned.
While smelling like nothing was nice – and safe, for sure – I still missed pleasant smells. After all, if you think about nature, God has blessed us with plenty of great smells like flowers and ocean breezes and fresh grass.
I just didn't want to fill my home with a bunch of imitations of those natural scents.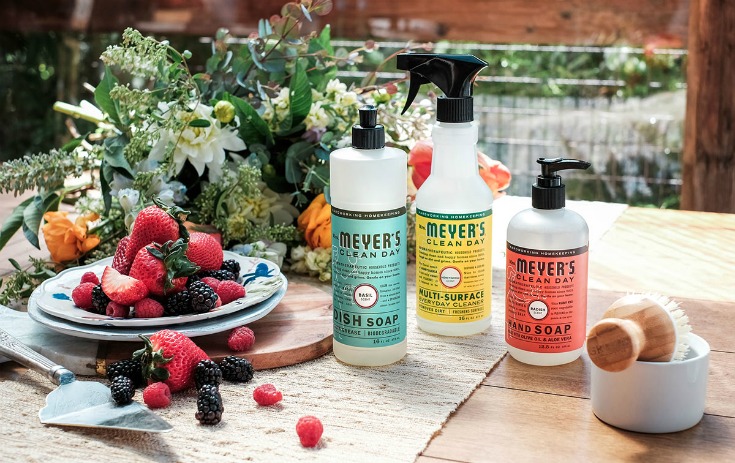 Fortunately, there are cleaning products that are safe – and smell wonderful. My latest favorite brand is Mrs. Meyer's Clean Day because they're so fragrant.
While I like to choose seasonal scents so my home smells like orange clove in the fall or peppermint in the winter, spring and summer are my favorite seasons – and scents. I'm particularly partial to lilac in the spring, geranium in the spring and summer, and radish in the summer. All three scents smell wonderful.
Want to try Mrs. Meyer's great smelling cleaning products for yourself … for FREE? Click here for an amazing opportunity from Grove Collaborative.
2. Dabble with essential oils
Aside from great smelling cleaning products, a second great way to safely add fresh, natural fragrances to your home is by diffusing essential oils. All you need is a diffuser (I use this one in my own home) and a few essential oils that you enjoy.
If you're starting out with essential oils, lavender, peppermint and lemon are all great oils to try:
You can make a relaxing air freshening scent by diffusing a couple drops of lavender and peppermint.
Diffusing two drops each of lemon, lavender, and peppermint oil is another cheery scent combination.
You can find 10 essential oil recipes on Prairie Homestead.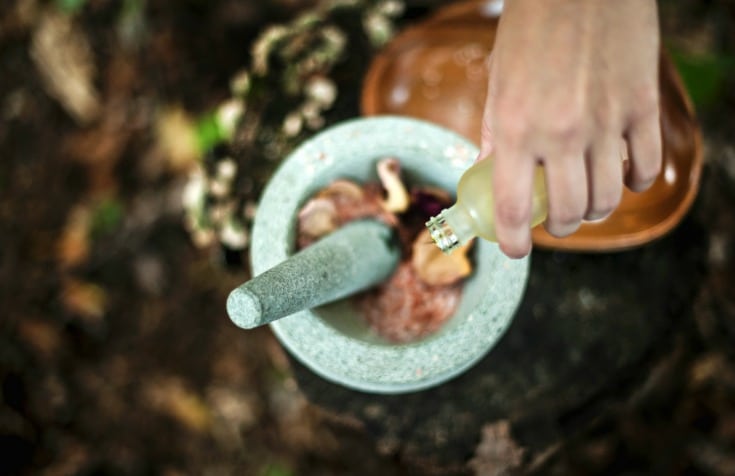 3. Make your own simmer pot.
Simmer pots are a super simple way to add a great fragrance to your kitchen. To get started, fill a saucepan with fresh water. Add your ingredients and simmer on low heat until much of the water evaporates.
My all-time favorite recipe is perfect for the fall and winter:
Orange Spice Simmer Pot

Simmer orange peels, a stick of cinnamon and 3 to 5 whole cloves.
Or, try this alternative for spring and summer:
Lemon Lavender Simmer Pot

Simmer lemon peels and a few sprigs of fresh lavender. If lavender's not your thing, add a little fresh rosemary to the lemon peels.
4. Get some fresh air!
Depending on where you live, another option for airing out your home is by simply opening the windows. If you can do this, get some fresh air in your home. Getting a breath of fresh air will make a difference. Once everything's aired out, you can continue using your simmer pots, diffuser, or safe cleaning sprays.
However you decide to add scents – either with great-smelling (safe!) cleaning products or diffusing essential oils, don't forget the powerful effect of scent in your home.
You just might surprise yourself how pleasant smells can help you enjoy your home more – without overpowering you.
What safe ways do you make your home smell great?
Disclosure: Links in this post may be affiliate links. This means that, at no added cost to you, I may make a commission on products purchased through these links. Thank you for supporting this website!
All images courtesy of Unsplash and Grove Collaborative.