This year, more than ever, Christmas just might be the most wonderful time of the year. In this strange era of uncertainty and unrest, we do need a little Christmas … right this very minute!
You might wonder how you can spend your days and nights until Christmas this year. Could you redeem this year's Christmas season? Can you make it memorable?
Especially if you're faced with kids who are stuck indoors and wanting and waiting (not so patiently) for Christmas, you need a creative way to keep your children (and yourself!) occupied.
Imagine …
Imagine what it would be like to spend December days with a game plan that focuses on a family-friendly Christmas.
Imagine what it would be like to not have to search Pinterest for boredom buster ideas because you knew that as a family you were learning together, eating new Christmas goodies, and having a ton of fun in the process.
Imagine what it would be like to reach Christmas Day with excitement, knowing that you've spent your December in a relaxing but fun month-long celebration, instead of rushing to get to the big day.
With Christmas Countdown …
Christmas Countdown is just the guide you need to help focus your heart on the true meaning of Christmas and engage your family in fun, meaningful, international Christmas traditions.
You can celebrate Christmas all December in simple, quick, stress-free, yet thoughtful ways!
You can get a first-hand look into how 27 other cultures celebrate Christmas and avoid the boredom that comes with the same old routine.
You can spread your Christmas celebration throughout December without needing to plan the details.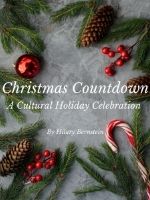 As a homeschooling mom, I'm always looking for creative ways to tie education into the big picture. Because last year felt so different than most, I wanted to plan a December that both my family and I would look forward to.
Instead of bemoaning the fact that we can't be a part of the typical holiday hustle and bustle, I needed to find a way to appreciate the Advent season.
I tried other Advent guides in the past and while they've been meaningful for adults, none have engaged my children for very long. So I created and tested ideas and plans for 25 days leading to Christmas to both occupy and educate my kids while pointing them to the real reason of Christmas.
Last December was one of my family's favorite Advent seasons, and it was all because of Christmas Countdown. This year I've updated it with new countries, recipes, and activities.
I've Crafted This Guide With You in Mind …
Christmas Countdown is a guide that will walk you through each day of December focusing on a thoughtful Bible passage and holiday traditions from 27 different cultures. The daily suggestions are quick and easy … in fact, most days require almost zero preparation.
All the ideas are family-friendly, but you'll need to judge how age-appropriate they are. (They may not be toddler-friendly, but rather best for entire families.) Even if you live by yourself, there's no reason why you couldn't pick and choose the activities that interest you.
As you dig into Christmas Countdown, you'll notice some similarities in each day. First off, you'll find a Scripture passage that will help ground your heart in truth and help you worship Christ, followed by a prayer request for each nation.
Second, you'll learn how Christmas is celebrated around the world by focusing on one country's traditions each day. Grab a map or grab a globe and find the various countries. Once you learn how particular countries celebrate Christmas, I've included links to international recipes.
Finally, I've shared tried and true Christmas traditions and activities that are fun, just in case you're looking for a way to occupy yourself or your family this month.
As you try different activities and recipes, you just might find some that you'd like to include as yearly Christmas traditions.
If you're looking for a creative way to spend this December close to home, Christmas Countdown is the simple, straightforward Advent guide that will help. The entire guide is just $5. And your satisfaction is guaranteed.