The Best Ways to Remove Hard Water Stains
Wondering how to remove hard water stains in your home? I've tried seven different cleaning products to see what cleaned most effectively.
I hate hard water.
Hard water's overpowering odor of rotten eggs is one part of my problem.
The other thing I hate is hard water stains. Memories of summer camp include dreading to take showers in once-white shower stalls that were stained a deep orange because of exceptionally hard water.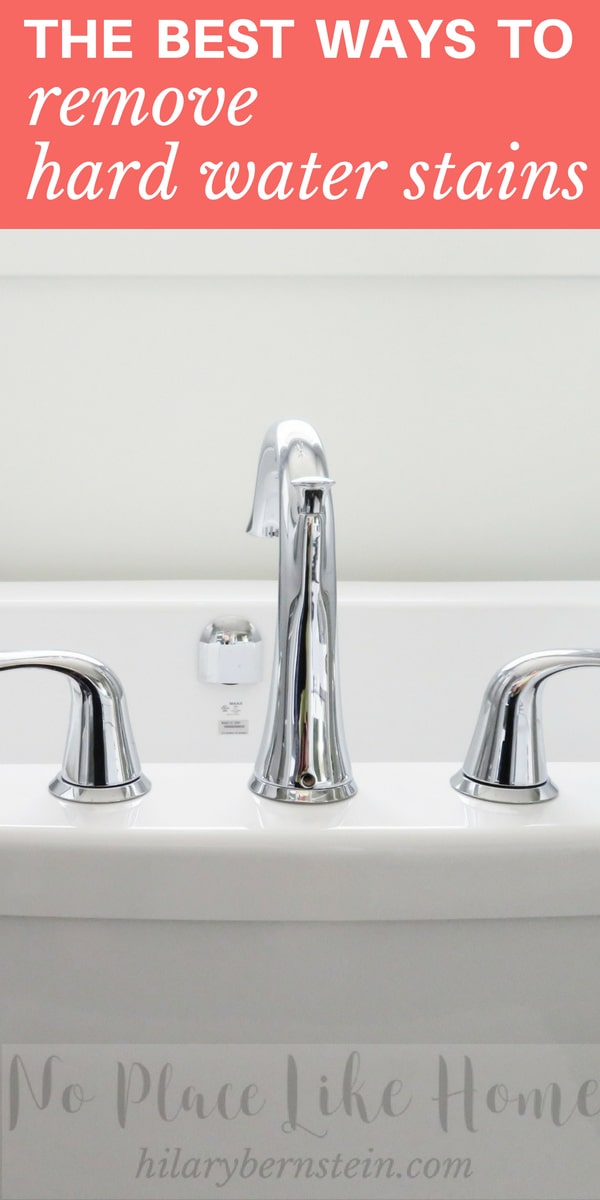 When my husband and I were getting our current house inspected, I wanted to run out the door when the bathroom filled with the disgusting smell of hard water. Immediately all the summer camp bathroom images flashed back in my mind.
I didn't want to deal with hard water as a homeowner.
But we bought the house … and I have been tolerating hard water for the past four years.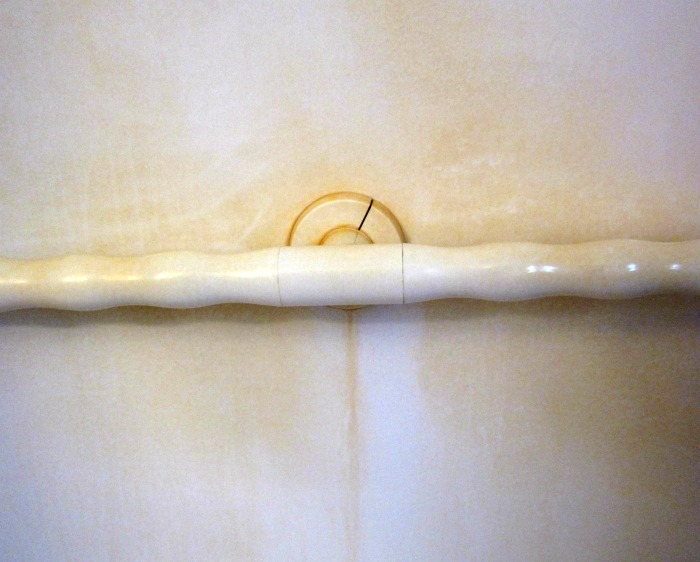 Dealing with hard water stains
Since cleaning bathtubs and showers is my least favorite chore, the addition of hard water stains makes the job even more dreadful to me. I end up putting it off for months, until I have to scrub – and scrub and scrub and scrub – the hard water stains away.
This past weekend I decided to put seven cleaners to the test to see what would actually remove hard water stains. I was very surprised with the results.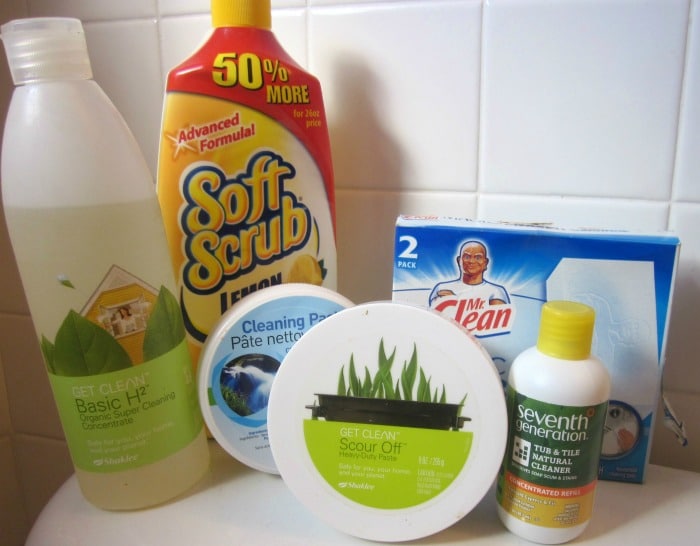 I taped off seven portions of my shower that had the worst hard water stains. Then I cleaned each section with a separate cleaner:
A homemade cleaning paste made out of baking soda and hydrogen peroxide
Clean Magic Eraser
Norwex Cleaning Paste
Soft Scrub (I haven't used this for years, but I bought a bottle of this before I made the switch to safe cleaning products.)
I had NO idea what would work the best, but I was glad I could try homemade products along with safe, commercial products – and even harmful cleaners that are so popular.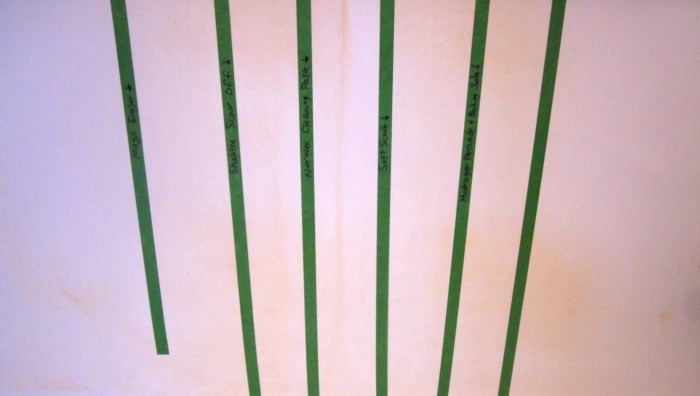 So what happened?
I began scrubbing, and it quickly became obvious that I really needed to scrub with some of the products – especially the baking soda and hydrogen peroxide, the Magic Eraser, Shaklee's H2, the Seventh Generation, and the Soft Scrub.
When I mean scrub, I mean scrub. I scrubbed so much my arms got tired.
When I tried both the Shaklee Scour Off Heavy Duty Paste and Norwex Cleaning Paste, I was pleasantly surprised. I didn't have to scrub so much – and both products removed the hard water stains much better than any of the other products.
The bonus was there were no harsh cleaning odors with the two. Shaklee's Scour Off is made with cherry pits and it smells amazing! The Norwex Cleaning Paste is made with marble powder and is fragrance-free. Both are incredibly effective.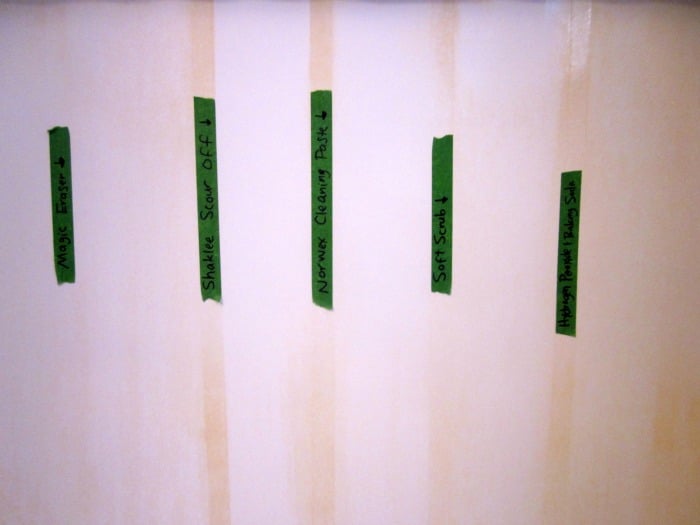 Hands down, though, my favorite product was the Shaklee Scour Off. I hardly had to scrub the surface at all – the hard water stains came right off.
I did have to apply more pressure when scrubbing with the Norwex Cleaning Paste – and I still could notice a bit of hard water discoloration.
By far, the Shaklee Scour Off quickly removed all traces of hard water stains in my shower. None of the other products I tried worked as well.

The Shaklee Scour Off won! I left an original strip of hard water staining just to show the end result.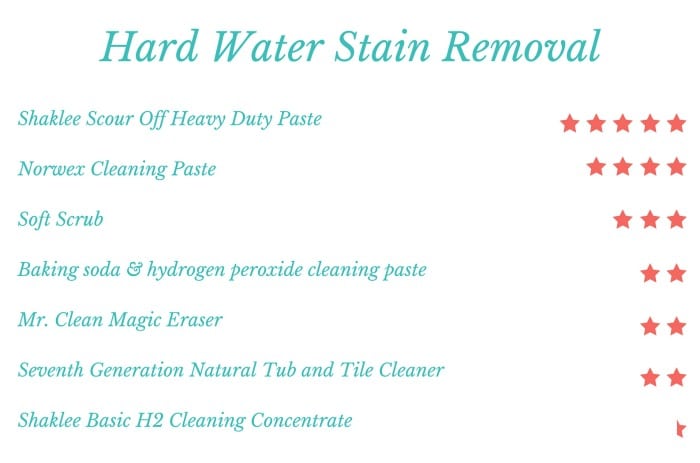 How to use the seven cleaning products
Even though most of the products didn't remove hard water stains, I'll still use them in my home.
The homemade cleaning paste made out of baking soda and hydrogen peroxide is fine for disinfecting surfaces that don't need stain removal.
I like using the Norwex Cleaning Paste to scrub surfaces that aren't heavily stained.
The Seventh Generation Natural Tub and Tile Cleaner is fine for maintaining an already-scrubbed bathtub or shower.
I like using the Shaklee Basic H2 Cleaning Concentrate as an all-purpose spray around my home.
The Mr. Clean Magic Eraser works fine in removing stains around my home.
But I simply can't recommend Soft Scrub. It rates poorly on the Environmental Working Group's Guide to Healthy Cleaning and it just wasn't that effective.
But the Shaklee Scour Off Heavy Duty Paste? I highly recommend it for removing hard water stains in your home.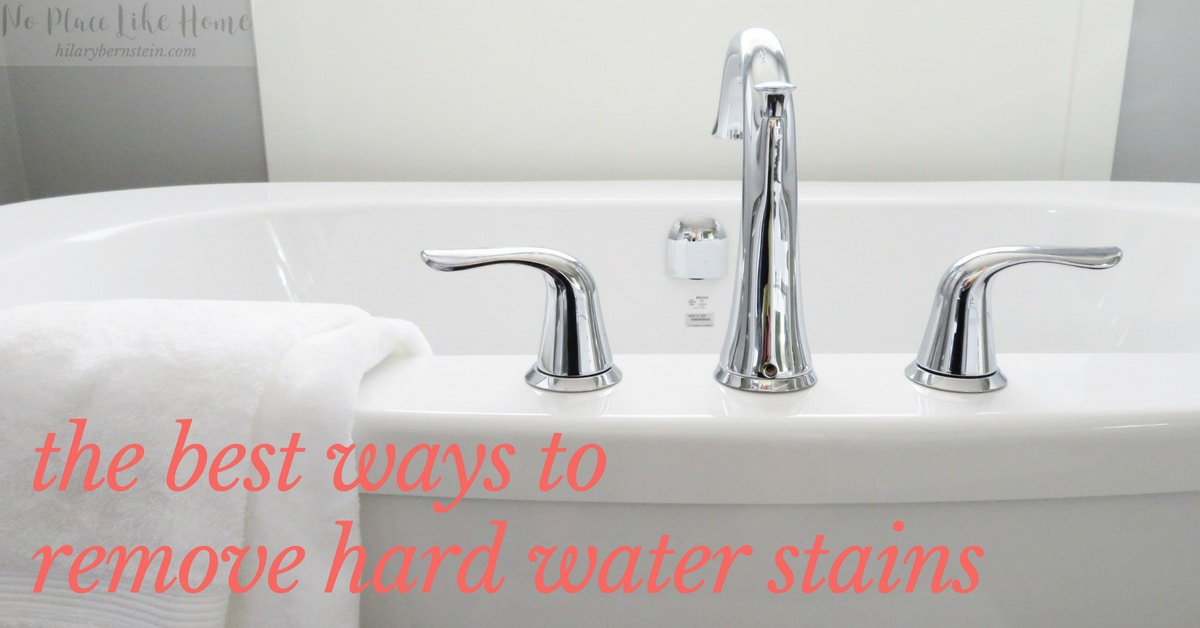 Does your home have hard water? How do you remove hard water stains?
Disclosure: Purchasing items through links in this post will result in a commission for Home to a Haven. Thank you for supporting this website!
All images courtesy of Pexels and Hilary Bernstein.