Timeless Truths from the Proverbs 31 Woman
Learn how to become a modern-day Proverbs 31 woman in my new eBook!
Ecclesiastes 1:9 says, "What has been is what will be, and what has been done is what will be done, and there is nothing new under the sun."
I completely believe it – and agree wholeheartedly. Nothing I face is unique. Granted, my situations may be new to me, but someone else has probably dealt with something similar before.
Because of this, I try to learn a lot from wiser women.
I'd rather learn from someone else's experiences than forge ahead and face problems that could've been avoided.
That's one main reason I love the example of the Proverbs 31 woman. She was considered a virtuous woman … so I want to find out what she did right in life.
Twenty-two verses explore the kind of life she lived, decisions she made, and priorities she created. As timeless truths, today's women could learn a lot of important, basic principles.
I've taken apart Proverbs 31:10-31 verse by verse and explored its universal truths in my eBook, Becoming a Modern-Day Proverbs 31 Woman.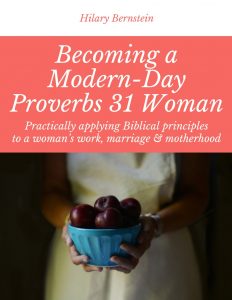 With 16 chapters, Becoming a Modern-Day Proverbs 31 Woman covers everything from work to marriage to household chores to life as a single woman.
And it includes in-depth questions to really get you thinking how you can apply Proverbs 31 to your own life.
Becoming a Modern-Day Proverbs 31 Woman is now available right here.
Disclosure: Links in this post may be affiliate links. This means that, at no added cost to you, I may make a commission on products purchased through these links. Thank you for supporting this website!
All images courtesy of Unsplash.