3 Easy Ways to Manage Homemaking Stress
Feeling a bunch of anxiety over your homemaking? Here's how to manage homemaking stress…
Reader question: Could you please help me? I'd love some advice for homemaking with an inconsistent schedule and dealing with the stress and anxiety. I'd love a more productive solution than "do more work and relax more."
Even with the most thoughtfully planned daily routine, life is filled with inconsistency. People need your help. Appliances or cars break and need repaired. Sickness might drastically put a wrench in your plans.
And schedules can be filled with inconsistency. Throughout a week, different commitments fill each day or night. And no two weeks (or especially weekends) ever seem to be the same. You might have a few days (or weeks) where you're on the go (or at home) more than usual.
So how can you even begin to plan for homemaking when you don't know if or when you can fit it in?
It can feel impossible and overwhelming to attempt to create a haven when there's just no time. And with the busyness and unpredictability of everyday life, we could choose to dwell on our overwhelmed feelings.
Or, we could choose to manage our homemaking stress with these 3 different tricks:
3 Easy Ways to Manage Homemaking Stress
1. Do something every day
For starters, I like to stick to my non-negotiable chores every day (make my bed, wash dishes, wash a load of laundry, pick up the house) – and I refuse to get frustrated or stressed out if that's all I can do. Especially during busy seasons of life, that may be all I can do.
Once non-negotiable chores are finished, fit in other cleaning and chores on days that are less busy than others. Try to do these extra jobs in five to ten minutes chunks – and count it a success if you accomplish one. (Your home IS getting cleaner, little by little!)
Some days, you may be able to fit in one extra cleaning chore, other days you might get to four or five. Regardless of how much extra you can accomplish, count every bit of it as an added bonus.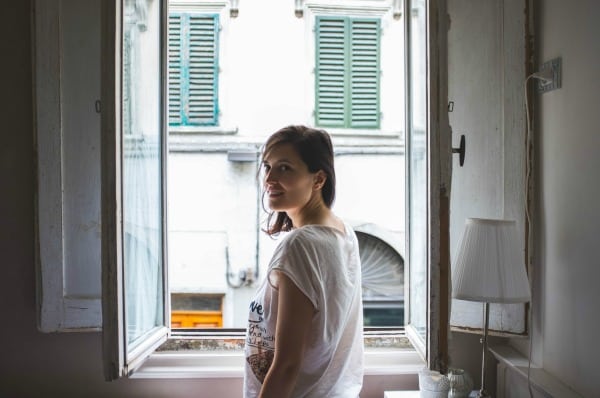 2. Make a list, check it twice …
To know what bigger cleaning jobs you need to tackle, it's helpful to write down everything you want and need to do.
Yes, your list might look overwhelming at first. But once you realize you've written down everything you need and want to do, it's freeing.
By looking at your list, you also can judge what you have time to clean during little chunks of found free time and prioritize what you need to do first.
To-do lists also are a great motivation when it comes to cleaning, because it's satisfying to cross off a cleaning chore once it's accomplished!
3. A change in perspective
Aside from making a list of chores and then fitting them in when I have extra time, I've found that the key to dealing with the stress of an inconsistent homemaking schedule is creating a different perspective.
When we expect more than we could possibly accomplish in a day – or a week – we add a lot of (unnecessary) stress to our lives and homes.
But when we try to give ourselves grace and refuse to live with unattainable expectations, we can relax in our naturally imperfect homemaking.
Ideally, try to find a balance between a house that's not a pit (refuse to become a hoarder!) and not expecting more from ourselves than we would from others. It's a hard balance to find … but there's a lot of freedom in it.
I've found that I'm typically the one who adds the pressure of perfection, or trying to do too much.
But if we can just relax, it's easier to remember that our homemaking may be far from perfect, but it's manageable.
And that just might be the best stress-relief.
Through the online conference, Balance in Homemaking, 17 different homemaking mentors help you manage stress in your home and family. (I've shared how I've created Balance in Housekeeping!) For details, click here.
What are the best ways YOU manage homemaking stress?
Disclosure: Links in this post may be affiliate links. This means that, at no added cost to you, I may make a commission on products purchased through these links. Thank you for supporting this website!
All images courtesy of Pexels.